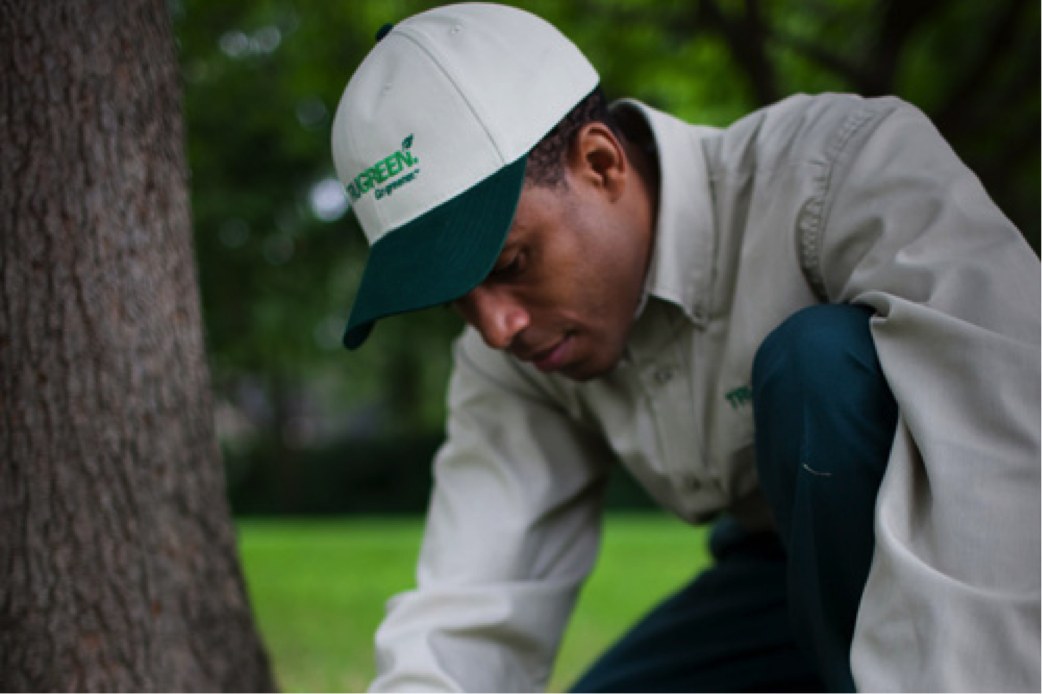 Deciding on a Schedule & Maintenance Regimen
If you want a great lawn, planning is required. Check out this schedule and call TruGreen® to help you get on track.
What are the keys to a great lawn? Planning and organization. A lawn maintenance schedule can help you design a plan to fend off weeds and diseases, keeping your lawn care maintenance simple and low-stress.
The goal of a lawn maintenance schedule is to keep your grasses and landscape as healthy as possible by coordinating lawn care activities with seasonal needs. Determining the right schedule for your lawn maintenance will depend on your zone and grass type, but in general there are certain tasks to complete each season.
Check out our guide below for a look at a general timeline of seasonal lawn care maintenance and specific tasks by grass type.
First off, know your region and grass type.
Warm-season grasses
Bermudagrass
Zoysiagrass
Kikuyugrass
Paspalum vaginatum
Centipedegrass
Dichondra
St. Augustinegrass
Bahiagrass
Carpetgrass
Buffalograss
Cool-season grasses
Bluegrasses
Ryegrasses
Bentgrasses
Fine Fescue
Tall Fescue
Now let's look at what you should do by season with insight from TruGreen's lawn care experts.
Spring Lawn Prep
In general:
Observe. Once the snow has melted and your precipitation has turned to rain, take a good look at your lawn. Are there puddles forming? It might be a good idea to
schedule an aeration in the coming weeks.
Tool tune-up. Head to the garage or shed and pull out your tools and
these tips for lawn maintenance. Check that your lawn mower is working, fluid levels are good, and the blade's height and sharpness. Check that your leaf blower, rake, shovel and anything else you might need are in tip-top condition.
Prevent. Have a pre-emergent applied by TruGreen before soil temperatures reach the mid to high 50s, which is when crabgrass seed germinates.
Lightly Rake. Lightly raking your lawn in the early spring will help the sun to penetrate through patches of matted grass and speed Spring green up.
Aerate. If your thatch was heavy or your soil appears to be compact, call your TruGreen specialist to schedule an aeration once the lawn is no longer dormant. Not sure if aeration is the right treatment for your lawn this season? Take this lawn aeration determination quiz to find out if your yard could benefit from the service.
For cool-season grasses:
Flush. Reduce potential damage from salt-impacted or pet-stressed areas. Flush areas with water as soon as soil thaws to leach away salts from roots.
Fertilize. Schedule an appointment for an application of food in early spring to give it a boost.
Mow. Begin mowing, but at a level slightly shorter than normal. Recycle the grass clippings back into the lawn, never remove them unless the clippings are so heavy that they sit on top of the grass.
Seed. Fall is the ideal time to seed a lawn, but spring is the next best thing. Schedule an appointment with a local TruGreen lawn care professional to get that seed down before summer arrives, as new grass will need a chance to grow and get established before hot temperatures move in.
For warm-season grasses:
Fight weeds. Your brown, dormant lawn makes it easy to spot green, active weeds. We'll help you fight them with weed control services.
Mow. In early spring, cut grass slightly lower. In mid-to-late spring, mow at normal heights and allow clippings to decompose on the yard to give your soil better structure and added nutrients.
Water. As spring turns to summer, begin watering established lawns so they get about 1 to 1 ¼ inches of moisture a week (including rain).
Fertilize. Once your brown turf has turned green, schedule fertilizations regularly.
Summer Lawn Care
In general:
Combat pests. Have your lawn checked and treated for grubs or other small pests. Find a
pest control plan that works for your lawn.
Mow as needed. Different grasses have different needs, but during the hot summer months most types have to be monitored so that they don't get too stressed.
For cool-season grasses:
Water. Begin watering, but be careful not to overwater. Just water your lawn enough to prevent drought stress. Avoid puddling and runoff as they can promote fungal growth.
Adjust mower. If grass is thin, raise the mower's blade to help shade roots and protect against heat damage. As summer progresses, avoid mowing during stressful times of day with heat and drought.
Aerate and overseed. As summer turns to fall, have TruGreen give your lawn another aeration session and overseed to prevent and enhance thinning lawns.
For warm-season grasses:
Feed. During the active summer growth period, have grass fertilized every four to eight weeks.
Adjust mowing schedule. Mow more often to avoid removing more than 1/3 of the grass blade at a time. Taller grass helps shade soil, reduce water loss and fight weeds.
Check water. In late summer, don't mow unless the lawn has received water from you or the skies above. Mowing a dry lawn can increase stress and dry it out even more.
Fall Lawn Maintenance
In general:
Mow. Slowly lower mower level raised in summer and cut grass at recommended height until growth halts.
Rake leaves. We love looking at the changing leaves, but once they're on your lawn they can smother grass. Turn it into mulch or bag and remove.
Reduce watering. Keep the lawn fully hydrated for winter, but don't allow soil to be saturated.
For cool-season grasses:
Fertilize. In late summer to early fall, give your lawn a boost. Aim to have fertilizer applied by TruGreen about six weeks before your first anticipated freeze. Note: Wait to use fertilizer on newly seeded areas.
Fight weeds. Plan to have TruGreen target weeds with post-emergent herbicides.
Pack the mower up. It's done a good job these past seasons. Store the mower with clean oil and an empty fuel tank. It's also a good idea to sharpen the blade before winter storage so that it's ready for the first cut in the Spring.
For warm-season grasses:
Fight weeds. Treat for winter annuals with post-emergent weed control.
Winter Lawn Maintenance
In general:
Relax. Most of the hard parts are out of the way for a couple months.
For cool-season grasses:
Say no to salt. Use an environmentally friendly ice melt instead of salt to remove ice. Salt buildup in soil can damage grass and other yard plants.
Clear paths. Shovel clear paths for people to take to avoid foot traffic on the lawn which can leave behind bare spots.
For warm-season grasses:
Mow. Pick a dry winter day to mow the dormant lawn. This will groom the lawn and remove fallen leaves.
Inspect. After mowing, give your lawn a close look for any winter weeds and plan to have TruGreen control them when spring begins to warm up.