Control mosquito activity on your property to keep your family safe and lawn looking great year-round with these tips from the mosquito/agronomic lawn experts at TruGreen®.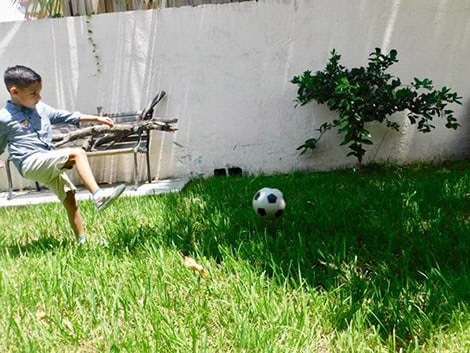 TruGreen is sharing tips for first time home buyers by teaming up with its mosquito/agronomic lawn experts and millennial bloggers. Topics include proper ways to minimize mosquito activity on your property and keep your family safe along with how to take care of your lawn while ensuring you have a healthy turf year-round. Below are some of the tips and best practices the experts at TruGreen would like to share.
How To Prep Your Lawn This Summer
It's no secret that mosquitoes can be a nuisance. They also can carry diseases-making them a health concern as well. So, how can you avoid these pests in your living area?
TruGreen suggests doing the following:
Remove or regularly replace standing water that accumulates in things like buckets and birdbaths where mosquitoes lay their eggs.
Make sure your yard is free from piles of twigs, branches, and leaves which provide harborage for mosquitoes.
Keep your lawn well mowed and other vegetation trimmed to eliminate cool spots where mosquitoes prefer to hang out.
 Take the necessary precautions recommended by the Centers for Disease Control and Prevention, and consider hiring a professional lawn care company to kill mosquitoes where they rest – in trees, shrubs, mulched areas and all types of ground cover.
TruGreen Lawn Care Plan
TruGreen's PhD certified specialists will evaluate your lawn and design a tailored approach to give your lawn exactly what it needs at exactly the right time.
Services typically include:
Fertilization using the right mix of micronutrients needed to achieve lush, green grass.  
Pre-Emergent and targeted Weed Control to eliminate various types of weeds that pop up throughoutthe year and keep them from spreading
Tips for Achieving Your Best Lawn
Water well: Watering is important and most lawns need about 1-2 inches of water per week. If you need an easy way to measure how much you've watered, place an empty tuna can in the sprinkler pattern until the can fills up – this equals one inch of water.
Mowing: Mow frequently to keep it weed-free and to ward off damaging insects. Never mow more than one-third off the grass height.
Keep mower blades sharp: Be sure to sharpen your lawn mower blades as rough blades will dry out and damage your lawn.
Finishing touches: Edge and mulch flower beds and trim shrubs to keep them looking their best.
Tidy up: Clear away debris, like fallen leaves, sticks and twigs and outdoor furniture and toys to help prevent unsightly dead patches made worse by the heat of the sun.
Tips for Continuing the Momentum into the Fall
Watering: While temperatures may dip in the fall, frequent watering (about 1-2 inches of water per week) will keep your lawn healthy ahead of the harsh winter.
Aeration: Perforating the lawn's soil can increase the flow of air, water and nutrients to grass during a time when it might be otherwise smothered.
Raking/Dethatching: It is important to remove excess organic debris during the fall to allow the lawn to breathe and grow. Be careful not to rake too harshly to avoid removing healthy parts of your lawn along with the junk. 
Fertilize: To stimulate and maintain growth, apply fertilizer during the early fall months to give your lawn a healthy boost.
Re-Seed: Fall is the best time to introduce new seed into an existing lawn of cool-season grasses.
See below for an example of a blog post coming to fruition after this blogger received her TruGreen service and spoke with an expert:
https://www.lifealittlebrighter.com/2018/07/do-mosquito-lawn-treatments-work-my-familys-first-hand-experience/
Overall, this blog campaign has featured 
52
 original posts across blogger websites and social platforms like Facebook, Instagram, Pinterest and Twitter, resulting in over 
440,000
 unique impressions and over 
11,200
 engagements across all platforms, including likes, comments, reactions, shares and retweets. 
Interested in TruGreen Mosquito Defense and wanted to know more about the service? Click here to find out more details.