If you live in a climate with milder winter weather, winter weeds can take root in your lawn. Left unchecked, these weeds can spread, well, like weeds, spoiling the appearance and health of the yard you work so hard to maintain.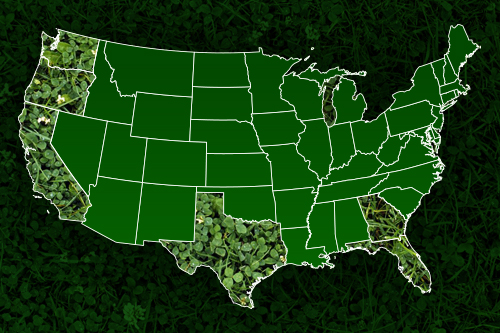 In an ideal world, the pre-emergent weed control treatment you use prevents weeds from sprouting in your yard.
In the event that you didn't get the treatment and weeds have already appeared, we've got tips to help you take back your lawn and prepare for spring. Here, we've compiled some of our best tips for wiping out the most common winter weeds, starting with:
Common Chickweed
This winter annual weed usually grows in shaded areas such as under trees, in gardens, or on the shaded side of your home. In colder weather, it can grow in the sun as well. Maintaining a thick lawn is your first defense for preventing chickweed, as it prefers sparser areas.
Pro Tip: Keeping your lawn mowed as tall as recommended for your type of grass can also help fend off chickweed.
Recommended Mowing Lengths By Grass Species:
Bermudagrass (seeded): 1" to 1.5"
Bermudagrass (hybrids): .5" to .75"
Buffalograss: 1" to 2"
Centipede: 1.5" to 2.5"
Kikuyugrass: 1" to 1.5"
St. Augustinegrass: 3" to 4"
Zoysiagrass: 2" to 3"
Despite your best preventative efforts, you may still find yourself with some of these little lawn invaders. Luckily, chickweed has a shallow root system, meaning the simplest course of action once it emerges is to pull it up by hand or find an herbicide treatment (part of a TruGreen lawn plan) that's right for your yard.
Henbit 
Like chickweed, henbit also shies away from thick, robust turf, so the best preventative strategy is a full, healthy lawn. Henbit can be a big problem in newly seeded lawns and will spread aggressively if not controlled.
If you have an outbreak of henbit, it's best to deal with in early spring while the plants are still young and more vulnerable to herbicides. The longer you wait, the more the weeds will have grown and taken root, making them more resilient and potentially requiring repeated applications to kill.
Pro Tip: When selecting an herbicide to combat henbit, you'll want to find a product specially formulated for cooler temperatures. If you're not sure which solution to choose, the experts at TruGreen can recommend an ideal post-emergent herbicide to tackle your henbit problem.
Dandelions
You're probably all too familiar with these common lawn intruders, recognizable by their bright yellow flowers, as well as the equally familiar (and even more problematic) sight of those flowers maturing into hundreds of little seeds destined to blow across your yard.
If you're already seeing yellow on your lawn, mowing down dandelion flowers before they turn to seed will go a long way to preventing further spreading. This won't permanently kill the plant, of course, so you'll need to root them out for a more permanent solution. There are a number of specialized tools available—commonly known as "dandelion diggers"—to make this process as painless as possible.
Pro Tip: You can also contact us about an herbicide treatment after dandelions have sprouted.
Annual Bluegrass
This fast-growing winter weed can be particularly disastrous to the appearance and health of your lawn. Annual bluegrass (not to be confused with Kentucky Bluegrass) can stand a few inches tall and will leave behind bare spots when it dies….and that usually happens during summer, the time of year you want to be outside enjoying your yard the most.
Annual bluegrass is notoriously tricky to control once it spreads, so prevention is key. Keep your lawn cut fairly high to help it develop strong roots and avoid overwatering, as this can make your lawn more susceptible to bluegrass growth.
If you find any solitary annual bluegrass plants, try to remove them manually, before they start producing seeds, to prevent a larger infestation. If your problem is past that point, you'll need a targeted post-emergent herbicide treatment. The specific type of herbicide to use will depend on the type of grass in your lawn.
Pro Tip: Consulting a licensed, certified lawn-care professional will take the guesswork out of the equation and get your lawn back to its lush, green glory in no time.
Whatever weeds rear their ugly heads on your lawn this season, a TruGreen specialist can expertly assess the problem and provide a weed control plan customized to your specific situation.
To learn more about pre- and post-emergent weed control and the other services, visit TruGreen.com or call 866.688.6722.