Simplify your Fall lawn maintenance routine with these easy lawn care tips from TruGreen®. Find more helpful advice from our lawn care experts year-round.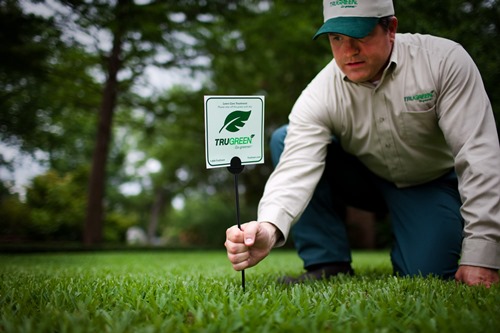 Fall is one of the most crucial times for lawn care. Depending on where you live, you could be working on protecting it from the harsh Winter elements or maintaining it so it thrives in the Spring. Either way, Fall lawn maintenance is serious business. We know that it can also be overwhelming, so we've put together some of our best tips for Fall lawn maintenance that you can start doing today.
Simple Lawn Care Tips
There are some basic things you can do to consistently keep up with your fall lawn maintenance. These steps are even more valuable, as you and your lawn prepare to withstand the winter chill.
Mowing your lawn:
Of course, mowing your lawn is an essential part of lawn maintenance during fall, just as with any other time of year. It not only keeps everything looking neat and manicured, but it also helps keep your lawn healthy and free of weeds and lawn damaging insects.
QUICK TIP: As a general rule, never mow more than one-third off the grass height
Watering your turf:
Mowing your lawn in the fall is not needed as often as in the summer, when rain and frequent watering helps grass thrive. However, watering your lawn is a different subject altogether. Although it's true that temperatures start getting a bit lower in the fall depending on where you are, and grass growth slows a bit, water helps it to sustain growth throughout.
QUICK TIP: Be sure to avoid overwatering, though; more than one inch or 1-2 hours of irrigation up to once or twice a week may cause excessive top growth.
Raking leaves and dethatching:
Raking and removing the thick, accumulated layer of plant debris regularly can be extremely helpful, especially early in the fall. This will allow your lawn to breathe, and removes excess organic debris that could restrict water and airflow.
QUICK TIP: Be careful not to rake too harshly, to avoid removing healthy parts of your lawn along with the junk.
Our best suggestion is to take a few hours each weekend and get that lawn up to par with these tips. You'll feel better knowing that you're on the right track to winterizing your lawn. Need some lawn inspiration to get you in the mood, check out our Instagram feed.

While the tips above are simple things you can do on your own, there are other components to Fall lawn care that you might need a helping hand on. After all, lawn maintenance in the fall is more than just raking, mowing and watering; it also entails fertilizing, core aerating, weeding, overseeding, pest control and tree and shrub protection—all things that can be left to the experts, so you are left with no worries.
You've Got A Friend in Us!
We know how important it is to keep up with your lawn. As a homeowner, you can handle the mowing and watering, but when it comes time for lawn maintenance that involves science-based solutions, we have the solutions you need. We know that many tasks involved in Fall lawn maintenance require some help and we've got your back. We offer several services to get your lawn in tip-top shape.
These services include:
Lawn Aeration – Removes plugs to relieve compact soil and increase the flow of air, water and nutrients deeper into the roots and can be done in the Fall as well as the Spring and summer.
Fertilization – A slow-release formula is applied at key points in every season to stimulate and maintain growth throughout the year. Ask your TruGreen professional for fall lawn fertilizer tips!
Pest control – Fight a variety of troublesome lawn damaging insects like ants, spiders, earwigs, fleas and ticks year-round. Yuck!
Preemergent and targeted weed control – Helps manage the spread of various weeds as they pop up throughout the year.
Let us help you get a Fall lawn you love. Visit TruGreen.com or call 866.688.6722 today for more information about all of their lawn maintenance services.