Congratulations on buying your first home. But—more importantly—congratulations on purchasing your first LAWN! While your new yard may already be perfectly to your liking, odds are you're looking to make it your own. From outdoor furniture to watering your lawn, there's a lot that can go into creating a space you love.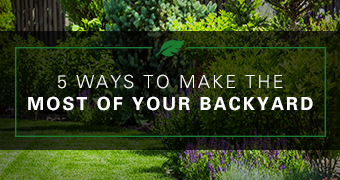 At TruGreen, our goal is to take care of your lawn so you can spend more time enjoying life outdoors. With a TruGreen Lawn Care Service Plan, you'll have more time to spend making memories on your lawn rather than caring for it. Need ideas of where to start? We broke down our favorite 5 ways to make the most of your backyard this summer. Click here to view the infographic in full-size!
1. Plant shrubs and flowers along the perimeter to add beauty to your backyard without taking up too much space
A garden, trees or shrubbery are all welcome additions to any backyard. Not only do they provide a beautiful backdrop, they can also add environmental benefits. Be cautious when planting new trees and shrubs, as poor placement could take away precious space and inhibit the views from your new backyard. Trees, hedges and flowers should line the perimeter of your lawn to create a pleasant frame for your backyard activities. If you are wanting additional greenery in your backyard, try planting herbs and vegetables in pots and planters on your patio for easy access when cooking.
Help keep your trees and shrubs healthy with the help of TruGreen. Every Tree and Shrub Care Service Plan is customized to give your shrubbery the TLC it needs to thrive.
2. Have a place for outdoor dining to host friends and family
Picture this—you've invited your friends over for a bite to eat to show off your new home: the stars are out, the weather is near perfect and the burgers are fresh off the grill. Having an outdoor dining area means you can take advantage of beautiful weather on an even more beautiful lawn.
How do you set up the perfect outdoor dining spot? Confirm that your table is made for outdoor use: wood and certain metals can be damaged by the elements and any rust or wood rot can attract uninvited pests. Be sure to clean up after any meal. Insects such as mosquitoes and ants see leftovers as an invitation to take over your space.
Take extra precaution and defend your lawn with a TruShield Lawn Pest Control Plan.
3. Entertain with lawn games
Living life outside is the perfect summertime goal. Setting up your favorite lawn game could be the motivation you need to spend more time in that brand new backyard. Games such as bocce ball or cornhole add an element of fun and competition to any outdoor space. Plus, guests of all ages can play, making it fun for the whole family. Try setting up a summer-long tournament or scoreboard to encourage game-play through the entire summer!
Protect your lawn from damage and always put away your lawn games after enjoying them. Left out, games can compact soil and block off necessary sunlight for your grass, resulting in dry patches.
4. Create a space for relaxed seating, centered around a key focal point, such as a pool or a great view.
Consider this feng-shui for your backyard. One basic tenant of this home design philosophy is that every area has its own purpose. You may already have a seating area for dining. Maximize your life outside with a seating or lounging area that is meant for relaxing! Lounge chairs, hammocks, and couches are great ways to take your lounging to your beautiful new backyard.
Scope out a space in your backyard that is somewhat separated from all other areas. Look for a spot with a great view for the days you just want to kick back and breathe. No view? No problem. Try adding a feature, like a fire pit, to center your seating around.
Be careful though, because the grass under your seating doesn't get equal sunlight, you may want to continuously rotate your furniture to nurture your lawn, or find a paved area to place your seating.
5. Strategically place stepping stones to avoid damaging the lawn with heavy foot traffic
Stepping stones and tiles are more than just décor. Heavy foot traffic can damage lawns by stomping out growing grass and compacting soil, which could cause difficulties for grass to root. Strategically place stepping stones to create a path to frequented areas of your yard. A path from the patio to the hose spigot or to a seating area can save your grass from initial damage as well as more long-lasting issues.
If you have areas damaged by previous foot traffic, it may be a good starting place when determining where you should put your path. Start by laying your stepping stones first, then work with a TruGreen PhD-certified specialist to revitalize areas of your lawn previously damaged. Your specialist will be able to aerate damaged areas, which loosens up the soil to help deliver vital nutrients to grass roots. The next step your specialist will take would be to seed and fertilize as needed to encourage growth and vibrancy.