See 10 creative and spooktacular ways you can keep your lawn from being damaged this Halloween.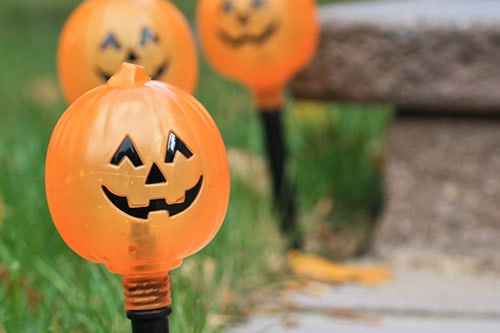 Halloween is easily one of the most popular holidays of the year.
But, it is nothing less than scary with what little ghosts and goblins can do to your lawn while trick-or-treating on Allhallows Eve.

According to the U.S. Census, the estimated number of potential trick-or-treaters ages 5 to 14 is 41.1 million. There are many other children and adults older than that who also go trick-or-treating.

Halloween yard decorating rivals the enthusiasm felt by many homeowners at many other holidays. About 3/5 of U.S. households decorate their lawns in some form or fashion. These DIY projects are generally a big invitation to welcome those trick-or-treaters to visit their homes. With generally comfortable weather, Halloween is the perfect time to decorate the home and yard and national spending continues to mirror that enthusiasm.

According to the National Retail Federation, total planned spending for Halloween will reach $9.1 billion, up from last year's $8.4 billion. $3.4 billion in costumes will make up the largest share of spending, while candy and decorations tie for 2nd place at $2.7 billion. The average planned Halloween spending per household is $86.13.
Below are 10 creative ways to keep your lawn from being damaged this Halloween.
1. It Follows a Path
One of the most important ways to start protecting your lawn is to provide a sensible pathway to where you want your trick-or-treaters to visit. Designing the right path not only can help you orchestrate your foot traffic, but it can also be fun for young trick-or-treaters who don't navigate well in the dark. A decorated path should not be cluttered. Keep your pathway clean and open so that they stay off the grass.
2. Leave a Haunted House
It is important to remove leaves or mulch them with a properly equipped mower as they can suffocate grass. Matted leaves left over a lawn through the winter months can delay spring green-up and bring unwelcome lawn diseases. Consider rounding up and clearing away the leaves in order to make a lawn more visible. Providing more light on a lawn could deter trick-or-treaters from walking across the grass. After clearing leaves, homeowners can compost what was collected to nourish plants and shrubs, reducing the impact on the landfill.
3. Casper, the Scarecrow, and the Wicked Witch Shouldn't Walk on Your Yard
Strategically place outdoor Halloween decorations so that they don't sit on your lawn too long. Otherwise, you may suffocate and kill your grass. Consider using decorations with wireframes in the ground instead of wide-based objects. A great DIY decor option includes using a wire tomato cage covered by fabric and suspended above the ground like a ghost. The spooky decor will be a treat to visitors and prevent damage to the grass below.
For some fun and haunting examples, watch how you can become the envy of your block.
4. Look into the Light
Lighting is one of the most beneficial ways to prevent unneeded feet on your lawn and orchestrate foot traffic in the right direction. There are the obvious lights you'll want to include, like near your front door or even in a jack-o'-lantern. An even better idea, though might be lighting a 'runway' to use for both decoration and for safety so that guests don't fall on lawn ornaments or trample flowers in an unlit bed nearby.

Consider purchasing some orange string lights. If you don't want to worry about electronics, then try using flameless tea lights that mimic the look of real candles and eliminate the need for fire.

Similar to how these types of lights illuminate a house during winter holidays, the same effect could be had in order to guide little vampires and werewolves to walk on an illuminated pathway. Little trick-or-treaters would likely want to walk through festive lighting instead of your lawn.
5. Ichabod Can't See the Front Door
What day of the year is more important to have the proper lighting at the front door than Halloween? Wherever the candy station is going to be, you must have a well-illuminated destination that draws heads to the right location.
"Substitute a colored bulb for your regular porch light," says Lesley Bannatyne, author of "Halloween Nation: Behind the Scenes of America's Fright Night".
"It's about imagination. Just lighting your porch with jack-o'-lanterns and opening your front door extra s-l-o-w-l-y can send some trick-or-treaters over the edge. Or, you can turn off all the lights in the house and answer the door with a flashlight."
6. Michael Myers Needs Deterrents
Nearly 3 out of 5 households will decorate for welcoming trick-or-treaters. When choosing Halloween lawn decorations, many people often choose items that can kill the grass and turn a lawn into a graveyard.

While decorating can be fun, leaving items like a decorative tombstone or one of those inflatable objects can brown a wide spot on the lawn after sitting on the grass for days and weeks prior to Halloween. Also, those types of creative decorations invite children to walk on the lawn and play with the decorations.

Instead, think of properly placed decorations like a ghost or a mummy hand reaching out of the ground where trick-or-treaters might walk. Even a series of them surrounding your lawn or garden could function as a decorative fence, providing visitors a proper pathway to follow.

Other decorations like a scarecrow or a skeleton's bones can be placed to guide traffic. After all, a witch's broom can generally point in only one direction.
7. Something Foggy This Way Comes
Just ask the drivers in San Francisco, fog is a deterrent to avoid. Consider purchasing a fog machine or placing some dry ice in an area in order to directionally create that same spooky effect on your lawn and push goblins to a better pathway. The more mysterious the effect, the more likely that a trick-or-treater would follow a driveway and sidewalk rather than placing their feet in an area they cannot see.
8. Even a Monster House Has a Garage
It is most common for people to use the front door as a candy station. Consider using your garage if you want more room to decorate. Keeping trick-or-treaters on a driveway instead of walking across a lawn would also likely allow more capabilities for decorating. It is a great way to spend time outside on a crisp fall night and create a great spooky path for monster feet to follow.
9. Bugging Out Over Candy Corn
According to the National Confectioner's Association, 76% of households plan to hand out candy to trick-or-treaters this year.

But trick-or-treaters are not the only ones looking forward to all the candy this Halloween. Lawn pests and bugs also wait for their chance to indulge in the often improperly discarded candy treats. Just the slightest hint of sugary sweetness is all they need to send them into a frenzied search for a stash of candy corn, chocolate, and lollipops.

To avoid getting tricked by bugs looking for treats, clean up any discarded candy or wrappers left on your lawn. Improperly discarded candy and wrappers with just enough residue can leave a trail that leads bugs into your yard and directly to your house.
10. Contain Cujo
One thing that can startle a trick-or-treater away from your front door and onto your lawn is a loud barking family pet reacting to doorbells and costumed toddlers. Halloween night can be a little overwhelming for many pets. For the safety of your guests and for Cujo's sake, make sure your pets are safe and secure from guests.
Noted Halloween expert Lesley Bannatyne, an American author who writes extensively on Halloween, especially its history, literature, and contemporary celebration, says that her least favorite decorations are hanging dummies, electric chairs, that sort of thing.
"They're too real, too specific. Half the fun of Halloween is imagining what's out there in the dark," Bannatyne explained.
"What I really love about Halloween is that it's both extreme and tolerant. Whatever life you live every other day, Halloween is when you can break out of it, pretty much without judgment. It lets us teeter up to the edge of what's acceptable and celebrate that."
Protecting your lawn while decorating requires preparations before Halloween. While your goal may only be to enjoy the night welcoming cute costumed toddlers with tricks, the goal for a little vampire or fairy princess is to get to the front door as quickly as possible for as many treats as possible. Trudging right through your lawn does not have to be the only way to make everyone happy.
Be as sweet to your lawn as the candy is for your trick-or-treaters. With a little symmetry and creative planning, you can protect your lawn and the world can be your pumpkin. Need more than just creative planning to get your lawn in tip-top shape? Get in touch with one of our local lawn care specialists by clicking the orange button at the top of this page.