The Arbor Day Foundation shares some natural ways to decorate your healthy trees this holiday season!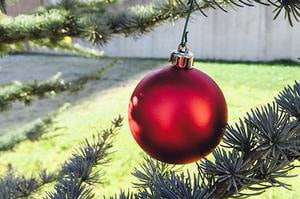 It's important to remember the seasons when taking care of your trees.
A winter wonderland can actually create a world of problems for your trees, which are particularly susceptible to injury in the cold months. When the weather outside is frightful, conditions for your trees may be anything but delightful. We spoke with our friends at the Arbor Day Foundation about some helpful ways to decorate outdoors this holiday season. Read below for their eco-friendly decor ideas!
The festivities of Christmas include rambunctious family dinners and social gatherings with friends. Senses are heightened with the vibrant hues of emerald, gold and ruby decked throughout the house. The comforting warmth from a mug of hot chocolate, the sweet taste of gingerbread cookies and familiar aromas of cinnamon and pine truly bring the Christmas spirit to life. A common family tradition is decorating the Christmas tree together. For many, this signals the start of the holiday season.
The fun doesn't have to stop with the tree in your living room.
If you are lucky enough to have the right kind of trees in your yard, consider them a blank canvas for your artistic holiday expression. This year, consider choosing eco-friendly decorations rather than flashing lights and plastic ornaments.
Here are eight do-it-yourself decorating tips to embellish your outdoor tree the natural way.
1. Spray paint pinecones:
It's a sure way to make them pop while still maintaining the natural feel. Don't forget to use a non-toxic spray paint.

2. Cinnamon walnut bundles:
Cinnamon is great for decorating because it looks nice, adds aroma, and can be eaten by wildlife. There are numerous ways to display cinnamon sticks on your tree. Simply hang them by twine, or create garland by bundling several sticks together and stringing them with walnuts.

3. Raisins, cranberries, figs:
Use whatever dry fruit you have on hand and string them on wire around the tree to pair with garland.

4. Orange/lemon pomanders:
This is a fun alternative to traditional ornaments. Cut slits around an orange or lemon and let it dehydrate. The crisp scent of citrus is refreshing, and, at the end of the season, the peels will easily break-down into the soil.

5. Popcorn balls:
Popcorn balls are fun to make and can easily be decorated. Birds and squirrels are also fans of the salty treat, so don't be surprised if they pop up along with other unexpected guests.

6. Gingerbread cookies:
Gingerbread cookies are a classic symbol of Christmas and a tasty holiday treat. Cut them into festive shapes or decorate them with frosting.

7. Apple slices:
Cut thin slices of apple, let it dehydrate, and hang them around the tree.

8. LED lights:
If you're determined to add lights to your display, opt for an LED option. They're more energy efficient than fluorescent bulbs. Better yet, go for solar powered lights. You'll save on energy costs and eliminate the hassle of cords.
Pair any of the decorations listed above, or combine them with your own creations. As with any artistic endeavor, make it your own. At the end of the holiday season, cleanup is a breeze with these eco-friendly decorations because most of them can be composted or simply left to be eaten by wildlife. During this time of giving, let us not forget our gratitude for the glorious gift of nature and for companies like TruGreen that support our mission to plant, nurture and celebrate trees.
For more tips on maintaining your lawn and trees this winter, read TruGreen's Green Christmas blog!