Meet the Warmoths
Emily and Travis are newlyweds living in the Tech Terrace neighborhood of Lubbock, TX. Emily is a residential interior designer and Travis works in home renovations. Between Travis's big picture ideas and Emily's attention to creative details, the two have transformed their historic house into their dream home, complete with an award-winning front yard. We sat down with the couple to learn the ins and outs of curb appeal.
On Working Together
They say the couple that renovates together stays together (don't they?).  "Travis is a big-picture thinker and I'm more detail oriented." As Travis pitches Emily the "big ideas", Emily works hard to decide on important details like color and materials. When it comes to putting in the work "Travis loves to do the manual labor with a good podcast or audio book in his ear while building."  When it comes to the finer details, the two will tag team. "We like to do the painting, gardening, decorating and designing together."
Transformation
Like most homes in the Tech Terrace neighborhood, the Warmoth house came with a lot of potential and character. "The first and biggest change was painting the pastel yellow brick to a medium neutral gray," Emily explains. "We replaced the windowless floral-mural front door with a chartreuse paint and frosted window door. This neutralized the house but gave it a lot of character with the accent color."
Later down the line this designing couple wanted more color in their front yard. Instead of adding more paint or décor, they decided to revive the homes original, yet overgrown, flower beds.  "We looked for flowers whose color would complement our new paint. We also looked for a variety of textures."
Their favorites? "Crape Myrdal with black leaves and red blooms, a flourishing hibiscus plant with blood red flowers, lantana with yellow, orange and red blossoms, and a hardy and vibrant electric blue plumbago." By adding new life to their flower beds, the Warmoths made their front yard pop in a natural way.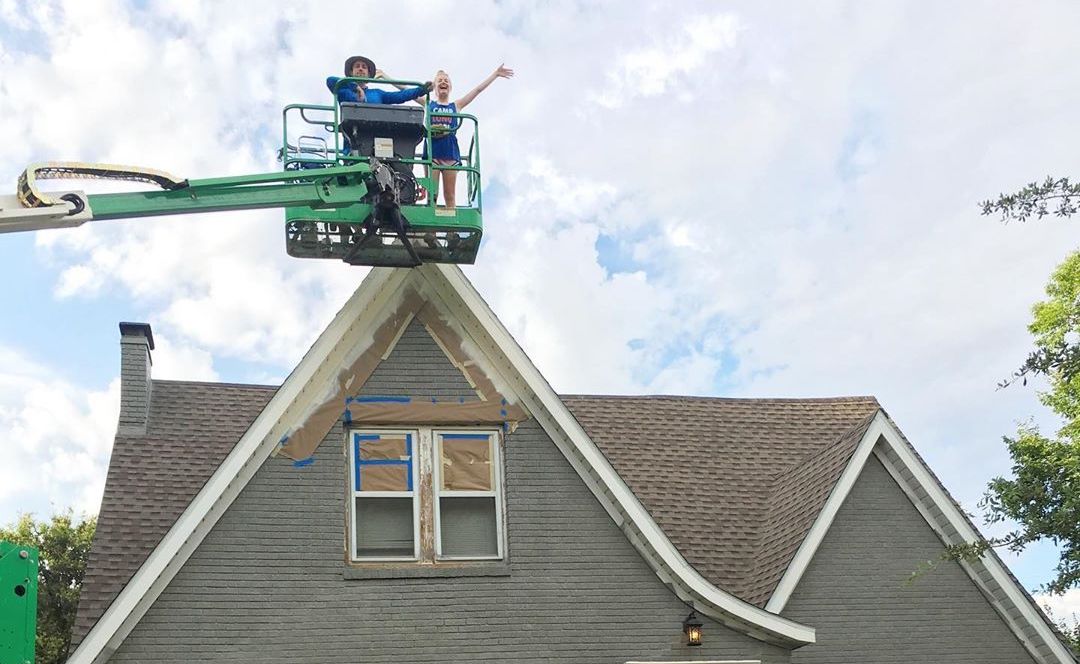 "We don't care how it looks to anyone else. We want our house to stand out for our own pleasure. It's nice to come home and be proud of the work that has paid off."
Lessons in Lawn Care
As you can guess, Travis does most of the yard work. From regular mowing to working on the garden, their hard work has translated into a point of pride. "We don't care how it looks to anyone else. We want our house to stand out for our own pleasure. It's nice to come home and be proud of the work that has paid off."
The biggest game changer in their lawn care routine? "Maintaining a healthy irrigation system." Their yard is equipped with drip irrigation, a type of sprinkler system that is incredibly customizable. "We install and calibrate the drip system, each time we plant something new." Travis also added a smart irrigation device so he can control their irrigation from his phone. Using this, he continuously adapts based on weather and seasonal conditions.
Where to Start
Emily and Travis have been working on their house for over 6 years! When asked how to start the process, Emily offers this: "I would say the color and condition of your home is the foundation of its curb appeal. Make your exterior essentials are well established before addressing anything else." Replace or repair any old, rusted hardware or fixtures to breathe life back into your front yard.
Once you've fixed up any mechanical issues of your exterior start building a strong color palette filled with complementary colors. "Vibrant colors draw the eye in, but if the vegetation look similar, it tends to give a bland foundation." Translation? Make your home pop by choosing a good variety of colors, matching cool tones with their warmer counterparts. Lighting fixtures, mailboxes, planters and—most importantly—your lawn and garden, all contribute to your home's color palette. When it comes to gardening, start with your lawn. As you continue to develop your green thumb, start to add more colorful vegetation.
Rome (and your home) weren't built in a day. Curb appeal is a never-ending process of reinvention and upkeep. As Emily and Travis have shown us, it takes time, but more importantly, vision. As you approach the process, work with your end goal in mind, then break it down into smaller projects. Little by little, your home's curb appeal will transform into an exterior worthy of a home and garden magazine cover!
As you continue this process, know that professional services are here to help you attain a vibrant lawn to help make everything else pop! With a TruGreen Lawn Service Plan, you'll be able to spend less time working making your yard green and more time focusing on other aspects of your home's curb appeal. To find the right service plan for your home by visiting our Lawn Care Services page or call 1-800-464-0171 to get started.