Discover 10 tips to help boost your home's curb appeal without breaking the bank!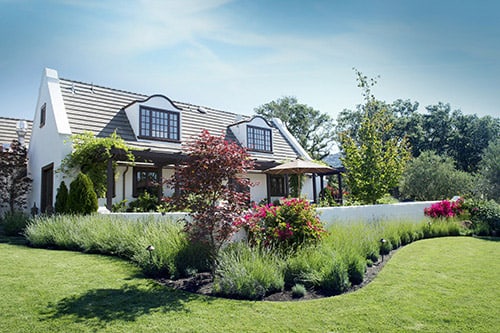 It's the first thing people see when people drive by your home.
Realtors will tell you that curb appeal is one of the top factors in helping determine a home sale. We spoke with our friends at Angie's List about their view regarding even more great ways to add curb appeal to your lawn.
An attractive front yard is the focal point of your curb appeal. It is among the first things a guest or potential buyer will notice as they approach your home. The lawn also adds an element of peace and relaxation to the property and helps you enjoy spending time outdoors.
Among the first steps you should take is to grow beautiful, green grass on your front yard. Make sure you regularly trim the grass and keep it at an even height. Consider hiring a lawn care service for professional help.
There are many other ways you can improve the appearance of your lawn without breaking the bank. Here are 10 tips, hints and planting strategies you should consider.
1. Implement Companion Planting
If you choose to add plants to the yard, do it in pairs. Companion planting balances out the yard and adds aesthetic appeal. Some types of plants also grow better with similar species being nearby.
Walnut trees (Juglans) are great companion plants with all types of grasses. Dianthus (Dianthus caryophyllus) is a great companion plant to help roses, foxglove, lavender, aster and echinacea.
Geraniums (Pelargonium) have also been known to help roses as well as vegetables and fruit such as peppers, oranges, grapes, and even corn. Marigold helps most plants, while the swan plant is a great companion to sunflowers.
2. Add Functional Plants
Infuse your lawn with multipurpose plants that can add functionality to the garden. For example, plants that climb picket fences can add privacy to the front yard while contributing to your curb appeal.
Common climbing plants that offer beautiful flowers include clematis, wisteria, black-eyed Susan vines and perennial sweet peas (Lathyrus latifolius).
Plants that produce fruits such as tomatoes, berries and even corn can also add functionality and curb appeal to the front yard, if done right!
3. Match the Plant Size with the Scale of Your Home
When working with plants in the front yard, uneven plant height can make the yard look like a jungle. Make sure the height of the plants is proportional to the home, particularly wild grasses, which come in a variety of heights.
Obviously, you can go taller if your home is two stories or higher. Otherwise for one story homes, keeping the plants short and trimmed is ideal.
4. Invest in the Rake
Making sure the lawn itself is robust and green is an obvious piece of your home's curb appeal. To keep the grass and other plants healthy, you should constantly rake away dead leaves, weeds and other plant debris.
Too many dead leaves can prevent air from circulating the underlying soil layers and result in faded grass.
5. Add Appropriate Lighting
Curb appeal shouldn't go away just because it's nighttime. Add a series of outdoor lights that illuminate the yard and light up walkways.
Go for low-lying landscape lighting that is proportional in height to the plants in the yard. This gives a natural and relaxing look during evening hours.
6. Avoid Overplanting
Proper spacing is the key to an attractive curb. Make sure there is enough distance between plants and keep the grass at a reasonable density. In addition, avoid adding too much water and fertilizer.
7. Borders and Edging
The right edging options can make your yard look clean and sharp. There are many materials you can use to edge your flower garden, corners and grass boundaries.
Bricks offer a soft transition from the yard to walkways, while metal and stone provide a sharper, more sudden contrast.
8. Consider Planting Trees
Planting trees can boost your curb appeal in many different ways – walnut trees can help your grass. Planting a sapling is a relatively easy DIY project, but consider hiring a professional landscaper or arborist for proper placement.
Trees complement any landscape, provide shade and improve the quality of surrounding air. Trees are also relatively easy and cost-effective to maintain.
9. Decorate Footpaths
You can also separate your lawn into various segments by adding footpaths. A hardscaped footpath or walkway with stone, brick or concrete can provide a charming path for approaching and leaving the main entrance to your home.
10. Be Creative with the Colors
Multicolored plants add a sense of excitement and adventure to the overall lawn. Experiment with plants of different colors such as roses, lilies and orchids to add tone and depth to your curb.
Ornamental grasses are also a great option. Desert Plains fountain grass (Pennisetum alopecuroides) has been described as offering orange, red, gold and even light purple hues. Toffee Twist sedge (Carex flagellifera) gives more Earth-tones, such as copper and gold, while the golden Japanese forest grass (Hakonechloa macra 'Aureola') offers a bright lime-green appearance.