On September 27, we had more than 100 employees volunteer throughout Memphis, Tenn. for a combined total of over 250 hours in our Third Annual Day of Service. The Annual Day of Service was spent giving back to six local non-profit organizations and is an example of the company's overarching commitment to the well-being of those in the community and to encourage them to Live Life Outside.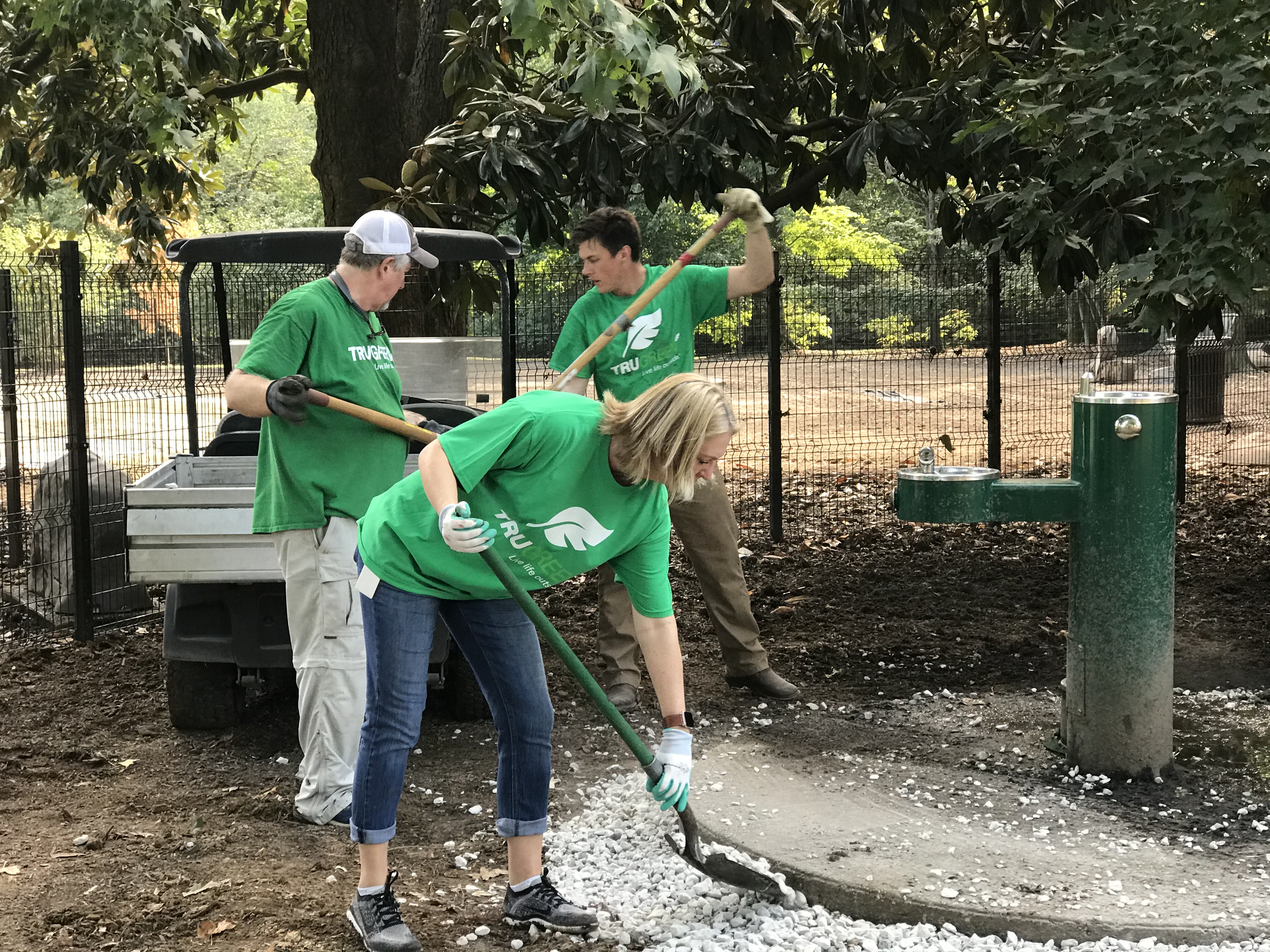 Overton Park Conservancy
The Overton Park Conservancy, a non-profit that protects, preserves and improves Overton Park, was one of the partners during our Day of Service. At the conservancy, our team members helped correct drainage issues that were affecting the dog park. "Our corporate volunteers are some of our best volunteers," said Andrew Weda, Parks Operation Manager. "The team from TruGreen met and exceeded our expectations. In fact, this was the fastest we have completed a project," Weda added.
Le Bonheur Children's Hospital & FedEx Family House
Another group of our volunteers visited Le Bonheur Children's Hospital and the FedEx Family House, which offers free lodging for families with children receiving treatment at the hospital. At Le Bonheur, we served coffee and donuts to families in the NICU, participated in a live game show on the hospital's TV channel and delivered comfort items to patients and their families. At the FedEx Family House, we packed lunches and restocked the pantry allowing families to grab meals on the go.
Ronald McDonald House
Some of our associates spent the morning at the Ronald McDonald House, where they sanitized toys, organized the food pantry and cleaned up trash along the perimeter of the property and playground areas to help support the organization's mission of keeping families together and near the care they need.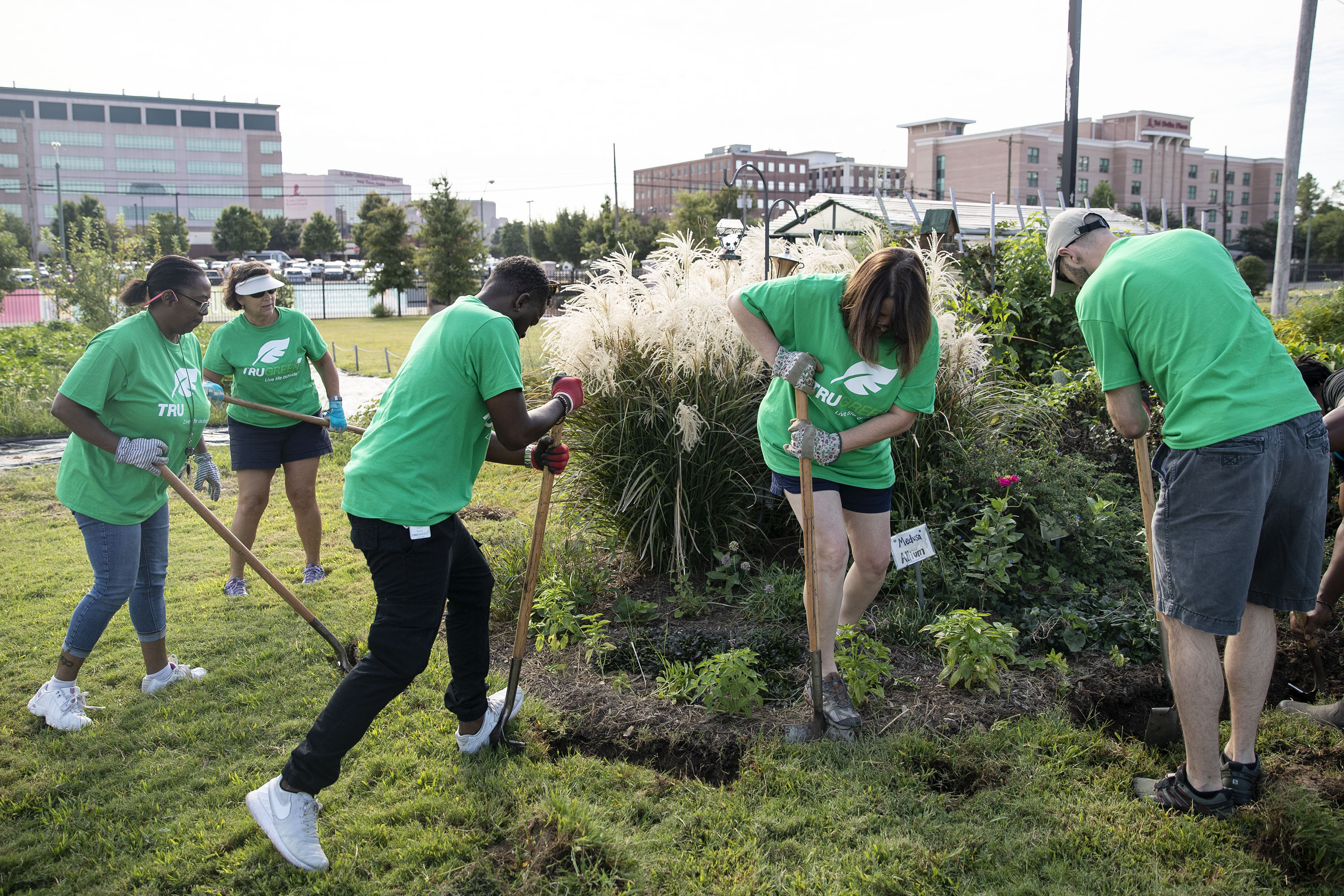 St. Jude Children's Research Hospital
Associates who went to St. Jude Children's Research Hospital ® for the morning had the opportunity to tour the hospital and work in the St. Jude Garden as well as make confetti for their No More Chemo party.
Midsouth Food Bank
Other volunteer projects included repackaging bulk food items into smaller quantities at the Mid-South Food Bank. Annually, the Mid-South Food Bank serves over 200,000 families, seniors, and children who are in need of quality food. By dividing 27 25-lb bags in their new repacking room, we were able to prepare 563 meals for their Partner Agencies.
Hope House
Another team of associates spent the morning at Hope House. Founded in 1993, Hope House is a preschool for children infected or affected by HIV with a mission "to improve the quality of life for HIV-affected individuals and their families by providing high quality early childhood education and social services." Associates read outdoor-related stories to classes, cleaned their on-site playground and led the students in a gardening activity.
"Giving back is at the core of who we are at TruGreen. Our associates look forward to opportunities like our Day of Service to live out the company's mission to Live Life Outside while doing our part to make a difference in the Memphis community," said Wendy Radtke, Senior Vice President and Chief Human Resources Officer at TruGreen.
To learn more about TruGreen and our commitment to community, click here.