New York Metro Area Tops TruGreen List of U.S Cities Most Bothered By Mosquitoes!
As the weather starts warming around the country, various cities are already being invaded by mosquitoes in a recent release that lists the top U.S. cities most bothered by mosquitoes.

The mosquito-biting season can last from five to seven months of the year, and according to customer data we've compiled, these cities are most bothered by mosquitoes ruining their time outside based on our sales and service data:

1. New York, NY
2. Chicago, IL
3. Atlanta, GA
4. Boston, MA
5. Dallas – Ft. Worth, TX
6. Detroit, MI
7. Washington, DC
8. Philadelphia, PA
9. Minneapolis – St. Paul, MN
10. Tampa, FL
11. Houston, TX
12. Milwaukee, WI
13. Charlotte, NC
14. Miami, FL
15. Hartford, CT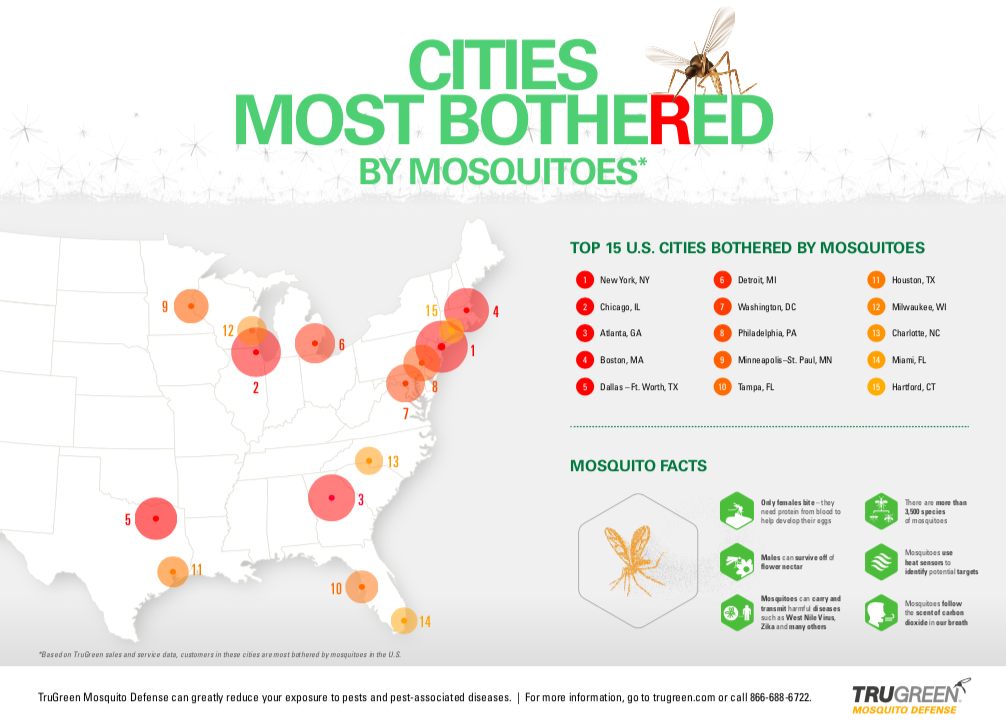 Did Your City Make The List?
Check out this infographic of the most bothered cities and see if yours made the list – then enlist the help of your TruGreen specialist to give those bugs the boot.
Report Methodology
The list of customers in cities most bothered by mosquitoes was developed by TruGreen based on an analysis of customer sales and service data from January 2018 to December 2018.
"Mosquitoes are one of the most prevalent pests bothering families during the spring – and summer – season, preventing them from truly enjoying the outdoors without the worry of bites and diseases," says John Bell, board certified entomologist and TruGreen regional technical manager. "At TruGreen, we know protecting loved ones from pestilent bloodsuckers is a priority for families. That is why for the first time we are releasing an expanded list of fifteen U.S. cities most bothered by mosquitoes to ensure families across the country are aware and can take action."
The Buzz on Mosquitoes
With over 3,500 species of mosquitoes, they are a common nuisance that affect almost every region of the country. Mosquitoes can also carry diseases, such as West Nile Virus and Zika, which make them a health concern.
TruGreen Mosquito Defense service targets mosquitoes where they live, eradicating them from your yard in 24 hours. You can also minimize mosquitoes in your yard by following these simple steps:
Remove or regularly replacing standing water that accumulates in things like buckets and birdbaths where mosquitoes lay their eggs.
Make sure your yard is free from piles of twigs, branches and leaves which provide harborage for mosquitoes.
Keep your lawn well mowed and other vegetation trimmed to eliminate cool spots where mosquitoes prefer to hang out.
Take the necessary precautions recommended by the Centers for Disease Control and Prevention, and consider hiring a professional lawn care company to kill mosquitoes where they rest – in trees, shrubs, mulched areas and all types of ground cover.
What Is Mosquito Defense Service?
Does TruGreen spray the entire lawn for mosquitoes? No. A well-maintained lawn provides mosquitoes poor protection from exposure to the sun and heat. That is why we treat shrub beds and tall grassy areas, which mosquitoes seek out to rest during the day.
My city has mosquito trucks, so why do I need you to treat? Fogging is used by many municipalities for large-scale control of mosquitoes. This treatment is not as effective in reducing mosquito populations in and surrounding the immediate backyard and other outdoor areas of our customers.
Is the TruGreen Mosquito Defense effective if my neighbor's do not treat their property? Yes. Mosquitoes can fly only short distances as adults before they must seek shelter and rest. By treating the ornamentals on our customers' properties, we effectively protect their landscape from adult mosquitoes coming from the neighbors' property seeking shelter in treated shrubs during the day.
TruGreen is offering initial treatments of Mosquito Defense for $39.95 and for best results, TruGreen recommends monthly treatments. For more information about mosquito service offerings at TruGreen and how to prevent mosquitoes from ruining your time outside, click here or call 866-688-6722.