TruGreen® offers lawn care service that helps homeowners just like you achieve healthy, green lawnsand they've been doing so for more than 35 years. TruGreen® isn't just your average lawn care company, though' their PhD-certified specialists understand the science behind lawn care, and they're trained in advanced lawn care techniques, products and equipment. They take the time to learn everything there is to know about your lawn by conducting a Healthy Lawn Analysis®, and from this evaluation they further tailor a plan that addresses your lawn's individual needs.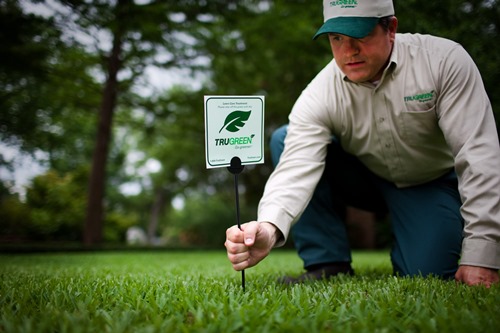 For TruGreen specialists, lawn care service is a labor of love. Their dedication, attention to detail and personalized service is what sets this lawn care company apart from competitors.
customer reviews:  TruGreen lawn care service
The reason they go to such extremes in lawn care service is simple: they love your lawn as much as you do. That's a bold statement, but one that is certainly supported by their legion of loyal customers who appreciate their efforts. Here are a just a few customer comments:
"I signed up for TruGreen services to improve the appearance of my lawn and get it looking good before the sale of my home. I have seen enormous improvement in the year I had service. I am a happy customer and recommend TruGreen."  — Christina P. 
"I want to say that I have had TruGreen service for just over one year, and I now have one of the nicest lawns in my neighborhood. I always receive comments on how well the yard looks. One of the main differences that makes TruGreen successful is that they will not "kill" the entire lawn and start over. They use your existing grass and "build" a new lawn from what exists already. Mark, my TruGreen technician, is terrific. He is extremely knowledgeable and is always willing to stop and answer questions. Our lawn has never looked better and will keep filling in over the years. Thanks TruGreen!" — Brian K. 
"I think you are a first-class company and do a very professional job. This lawn was a mess, and you have rejuvenated it. Thanks. I also like the correspondence that you send me."  — Sherry M.
experience the TruGreen difference
Proper lawn care maintenance does not happen overnight. It takes a hardworking team that provides lawn care services that are consistent and reliable to help a lawn reach its fullest potential. TruGreen lawn care specialists are PhD-certified through the TruExpertSM Certification Program. This training is rigorous and requires annual recertification, but it ensures that their specialists develop and maintain the expertise to deliver superior lawn and landscape results. Your TruGreen specialist is prepared to evaluate your lawn using the Healthy Lawn Analysis® and further tailor science-based solutions to meet your lawn's individual needs throughout every season.
With the help of TruGreen specialists, you can achieve a lawn you love. Visit TruGreen.com or call 866.688.6722 today for more information about their lawn care services.