Looking for a few ways to add easy splashes of color to your yard? Here are our favorite low maintenanace flowers that thrive in the spring.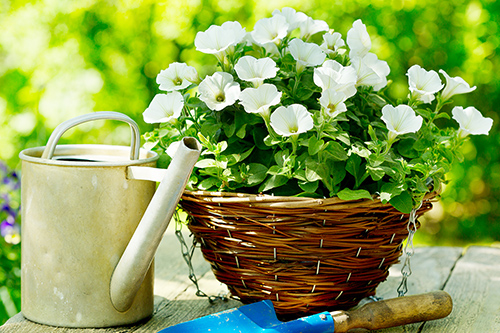 At long last, spring weather is finally here with little threat of a final frost. The soil is warm and dry, ready for new signs of life to take root. With these consistently temperate conditions, it's the perfect time for sowing seeds right into the garden. 
Here are a few of our favorite low maintenance beautiful May blooms that are sure to add a welcome splash of color to your yard:
Petunias
You can grow petunias from seeds, but it is easier to grow them from transplants. Plant them in loose, well-drained soil in full sun after the last spring frost. While petunias can grow in partial shade, it's best to find a nice sunny spot (that also provides shelter from the wind) for them to yield the most flowers possible.  Give them the growing room they need by spacing them about one foot apart. Petunias are tolerant of heat so you don't have to water them regularly. A nice, thorough watering once a week should be enough. 
Peonies
Peonies are one of the least fussy flowers out there, but you should still pick a location where they won't be disturbed. Make sure they have shelter from strong winds, but plant them far enough away from trees or shrubs, as they're not a huge fan of competing for food and moisture. Space them three to four feet apart for good air circulation. Peonies love full sun, and though they can manage with half a day, they bloom best in the sunniest of spots.
Geraniums
Geraniums are easy to grow, colorful, and add a lovely scent to the home. Although they are primarily an outdoor plant, they can also be kept indoors to overwinter. For best blooming, place the plants in an area where they will get four to six hours of sunlight each day. Similar to petunias, you should allow the ground to dry between waterings, then water thoroughly.
Begonias
If you looked up "foolproof" in the dictionary, you may find a picture of begonias. Maintaining the common annual begonia is about as easy as it gets, mostly because this flower does well in a variety of conditions. If you want to spoil your begonias, make sure they have light shade, rich and well-drained soil, and plenty of water. Begonias also thrive with plenty of fertilizer, so be generous.
Marigolds
There's a reason these flowers look so sunny: marigolds crave lots of sunshine. They're easy to care for, and though they grow in almost any type of soil, marigolds thrive in well-drained soil with a bit of fertilizer. They don't mind being too close to each other or other plants, as long as they have decent shelter. Similar to the other flowers mentioned, they love a thorough watering about once a week.
 
Looking for more ideas for your spring landscaping? Read up on how you can improve your front lawn, boost curb appeal, and embrace the #LiveLifeOutside philosophy.