Overseeding a lawn is a great way to restore the health and appearance of thinning or patchy grass.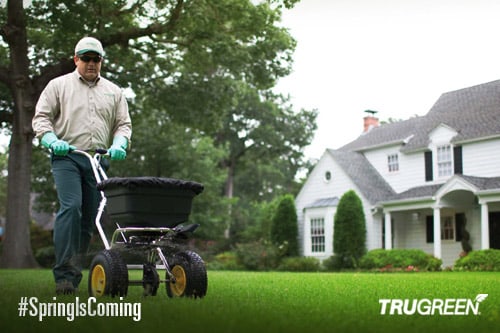 Over-what-ing?
Overseeding. Simply put, lawn overseeding is the process of spreading new grass seed over existing turf. Some people refer to this practice as reseeding your lawn.
OK, but why?
Glad you asked. Overseeding a lawn can help improve its overall health and appearance. It's a great way to improve the density of your lawn and enhance its color.
Lawn overseeding is good for lawns that suffer from drought stress, insect or disease damage, or that show other signs of decline, such as bare patches. Overseeding a lawn with newer, improved types of turfgrass is often the best way to thicken the lawn and improve its health and appearance. The new turfgrass is better able to resist damage from drought, diseases and lawn-damaging insects.
Will it work for me?
Generally, overseeding is best for larger areas where the turf is thin, but not bare. Smaller areas that are thin or infested with weeds can be spot seeded.
Also, not all grass benefits from overseeding. In general, overseeding is most beneficial to cool-season grasses like fescue, ryegrass and Kentucky bluegrass. But certain types of warm-season grasses can benefit from overseeding, too, especially in the winter when they go dormant.
So how does overseeding work?
After a detailed inspection of your lawn's thinning spots, fresh seed is introduced into areas of your lawn. For even coverage, the seed is divided into equal lots and each lot is spread in different directions.
This is often combined with an aeration service to allow more water and vital nutrients to penetrate your lawn and encourage optimal root growth. As a machine called a lawn aerator punches holes into the soil, fresh seed is introduced and makes direct contact deeper into the soil rather than getting captured above ground and not germinating.
Once the seed germinates, the seedlings must be kept moist with light frequent watering until they are established. As new turf fills in, weeds are choked out, leaving you with a healthier, greener lawn.
The process of overseeding your lawn may seem simple, but it's not just a matter of throwing the best grass seed onto the lawn. Successful overseeding requires know-how, specialized lawn care equipment and proper follow-through. Luckily, the experts at TruGreen® have all the knowledge, equipment and experience necessary to achieve excellent overseeding results.
Every TruGreen lawn plan begins with a Healthy Lawn Analysis®, performed by a TruGreen PhD-certified specialist. This in-depth analysis helps TruGreen create a tailored, scientific lawn care strategy to give your lawn exactly what it needs to reach its full potential.
If you'd like to discuss whether overseeding is right for your lawn, or you want to learn more about how TruGreen can help give you a lawn you'll love, call 866.688.6722 or visit TruGreen.com today.