Take our quiz to find out if overseeding can help your yard regain its health (and good looks!).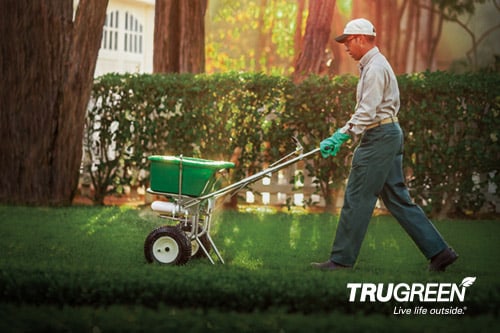 Did winter wreak havoc on your lawn this season? Is your grass looking thin, worn or patchy?
Depending on your grass type and location, spring might be the perfect time to overseed your lawn. The benefits of lawn overseeding include thicker grass, improved appearance and the enhanced ability to fight against insects and diseases.
The Overseeding Quiz:
Do you have cool season grasses like Fescue, Ryegrass or Kentucky Bluegrass?
Do you have bare spots or thinning, weak patches of grass all over your lawn?
Do you want to improve the density and color of your grass?
Do you want to avoid the hassle of renting an aerating machine, figuring out the right blend of grasses and dealing with fertilizer?
If you answered yes to most of these questions:
Are you a DIYer? To overseed your lawn, you will need to know what type of grass you have and what type/how much fertilizer you will need. For supplies, you will need a lawn aeration machine or slit seeder and a spreader. Check with your local hardware store for renting or purchasing options. 
If you're not into the process of DIY, it's time for our experts to start overseeding your lawn. Sometimes called reseeding, this process can help your yard protect against disease, insects and weeds. Find out more about overseeding here. 
If you answered no most of these questions:
It might not be time to overseed your lawn. But if you still have problem areas you would like looked at, give us a call at 866.688.6722. Learn more about other services we offer here. 
If you answered I'm not sure to most of these questions:
Hey, no worries. Let an expert help you determine the best treatments for your lawn's needs. Contact TruGreen online or by calling 866.688.6722. Also, check out our Complete Guide to Overseeding Your Lawn for even more useful tips.