Nobody likes a chinch in his or her yard. it's true! Chinch bugs, one of the most common pests found in home lawns, can really do a number on your lawn despite their size. Especially in times of hot and dry weather, when these little bugs do the most damage, it's important to incorporate a lawn care regimen specifically designed to take care of the problem. Wondering exactly what chinch bugs are, how they find you and what you can do to stop them? Read on!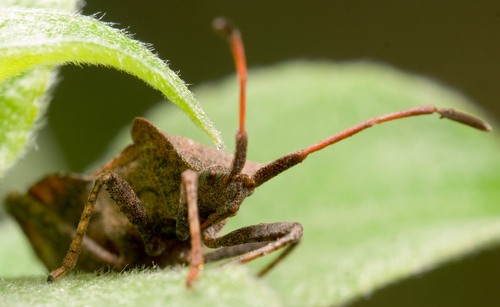 What is a chinch bug?
Chinch bugs are tiny bugs with mouthparts that pierce or suck in order to feed on your turf grass. As nymphs, they are very small with a bright orange abdomen and a white stripe. As they become adults, they begin to take on a rusty brown hue until they reach full maturity, when they look gray-black and have black-dotted white wings. The bugs are about 1/8" long by the time they are fully grown.
Where can I find them?
Chinch bugs are fairly common in a variety of places, particularly in places that have their favorite grass feeds. Places with fine fescue, perennial ryegrass, Kentucky bluegrass, bentgrass and zoysiagrass commonly experience chinch bugs. That could be anywhere from South Dakota to Texas, across the Midwest, as well as Florida, all through the East Coast up to New England and even as far north as Canada. The southern chinch bug is a major pest for places with warm season grasses like the St. Augustinegrass. The areas range from North Carolina to southern Florida and into central Texas. 
When does chinch activity peak?
Well, it all depends on where you are. Chinch bugs, which overwinter as adults in thatch or grassy fields, are generally active and do the most damage in weather warmer than 70 degrees. In the Midwest, a chinch may be active from July and August. However, the southern chinch can be active in temperatures as low as 65 degrees and as late in the year as December. The first generation usually does the most damage, but you can have anywhere from 3-5 generations in one place.
Uh-oh. I think I have a chinch bug problem in my yard. What do I do?
First, don't panic. With the right irrigation and fertilization, your lawn can survive the damaging effects of the chinch. Secondly, it all comes down to early detection and the right kind of lawn care. Irrigating the lawn to bring the chinch bugs to the surface before hitting it with insecticide is probably the most effective control method. You may be tempted to take this on yourself, but letting a professional with experience in dealing with these pests is the surefire way to take these little bugs on.
That is why TruGreen®'s science-based approach to lawn care is the ideal way to combat this very common pest. Once you call TruGreen and sign up for lawn care services, a TruExpert? Certified Specialist will come to your home for a Healthy Lawn Analysis®, determining the best course of action in controlling your lawn care needs. They are trained to recognize the signs of an infestation before a major takeover occurs, and they can incorporate chinch bug prevention and control as part of your lawn care regimen.
TruGreen utilizes science-based solutions to protect your lawn from pests like the dreaded chinch. Call TruGreen now at 866.688.6722, or visit them on the web at TruGreen.com to learn more about their lawn care services and how they can help combat those pesky pests. Also, check out our social communities on Facebook, Twitter, YouTube, Google+ and Pinterest.