Warm-season Turf Grass 101
Depending on your climate, having warm-season turf grass in your yard can provide you with a longer-lasting peak season so you can spend more time outdoors on a greener, healthier lawn—with less turf grass management.
What's the Difference Between Cool- and Warm-season Grasses?
Although the scientific difference between cool- and warm-season grasses rests in how each performs photosynthesis, it all boils down to this: Cool-season grasses grow best during the mild months while warm-season grasses grow best during the warmer months.
Seasonal Patterns of Turf Grass
Warm-season grasses follow a seasonal pattern throughout most of the country:
During cold weather. When soil temperatures fall below 50°F, warm-season grasses turn brown and go dormant (no food or green leaf production) until spring brings about warmer soil temperatures.

During spring green-up. Green-up may start when soil temperatures warm, but this process can take weeks, thanks to changing air temperatures. During this transition, proper turf grass management is vital. Set your mower blades lower in the early months of the year to help speed green-up and:

Don't apply nitrogen until turf is 50% greened-up
Don't apply broadleaf weed control until turf is 50% greened-up

During growth. As soon as your nighttime soil temperatures are consistently above 60°F, warm-season turf grasses will break dormancy and start to grow again.
Warm-season turf grass remains active throughout the entire year in certain parts of the country where soil temperatures remain warm enough, including subtropical regions such as South Florida.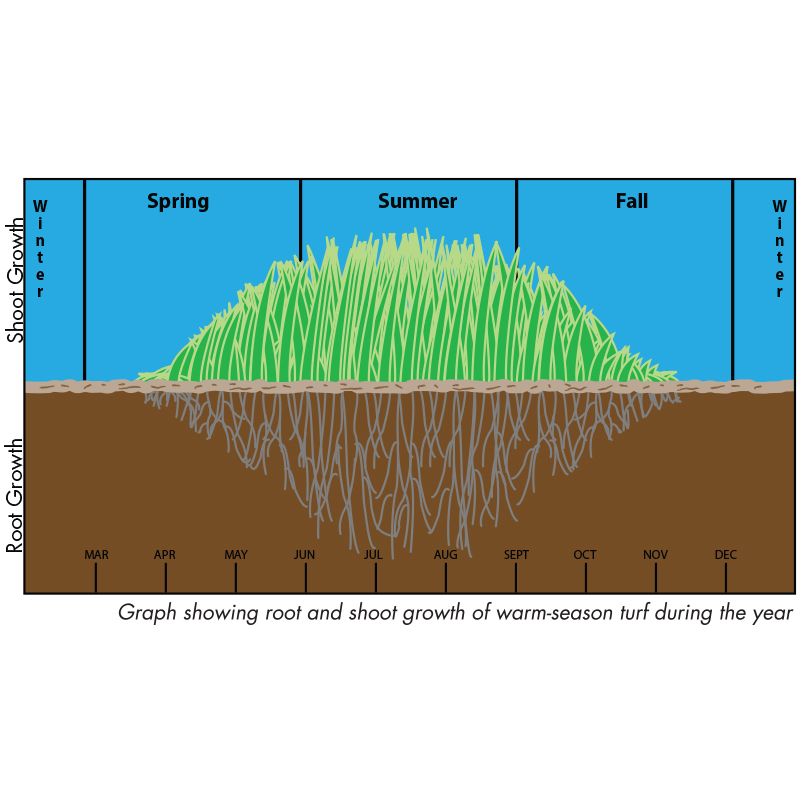 Which Climate Is Best for Warm-season Grass?
The most leaf, shoot and growth for warm-season grass occurs when daytime air temperatures reach highs between 80°F and 95°F and nighttime air temperatures stay around 72°F.
At daytime air temperatures of 70°F and below, leaf growth slows down dramatically—if you're in this zone most of the year, cool-season grasses may be a better bet for your best yard possible. Root and shoot growth is slight or halted when air and soil temperatures dip below 50°F.
Warm-season Fertilization and Carbohydrates
Warm-season turf grass experiences the bulk of its root growth during the summer and late spring. You can fertilize during this time to stimulate root growth, but the majority of all energy stores are used for shoot growth. TruGreen® prefers a customized fertilization schedule for warm-season turf grass.
It's also important to note that as the days decrease in length toward late summer, shoot growth slows and warm-season grasses start to accumulate carbohydrate reserves. Take care with nitrogen application during the late summer into the early fall as too much will decrease its tolerance for low temperatures. You can boost this tolerance by maintaining proper levels of potassium in the fall.
Check the chart below for tips on customizing your fertilization, or speak with a TruGreen expert to have us create a turf grass management schedule for you.