Green June Beetle
Cotinis nitida
The Green June Beetle is a fairly large lawn-damaging insect that attacks many different types of grass from New York to Texas and parts of California. Also known as Cotinis nitida, most of the damage caused by this grub occurs during September and early October.
Identify
Grubs
Sub Surface
An adult Green June Beetle can be identified by its colorful body and size. It has a velvety green shell with orange to yellow edges and a shiny underside that's metallic green or gold in color. Though the two lawn pests resemble each other, the Green June Beetle is generally larger than the Japanese Beetle. Green June Beetle grubs are larger and more robust than those of other grub species. They have stubby legs and mouthparts relative to their overall size. These grubs crawl on their back when moving—a characteristic unique to this species of lawn pest.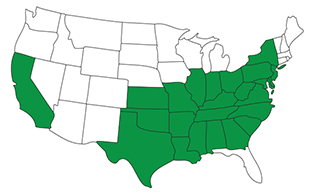 Control
There are two methods for controlling Green June Beetles that TruGreen® recommends: 1. Use professionally applied pest control designed to prevent excess lawn pest populations, which can cause damage to your lawn 2. Kill insects, grubs and other lawn pests before they have a chance to damage your lawn Proper mowing and watering techniques can also help foster a healthy lawn that's more tolerant to lawn pest attacks—plus you'll get a lawn you'll want to live on in the process.