Bronze Cutworm
Nephelodes mimians
The Bronze Cutworm is a lawn pest known for attacking Fine and Tall Fescues, all species of Bluegrass and Ryegrasses lacking endophytes (a type of fungus). Also known as Nephelodes mimians, this lawn-damaging insect can be found throughout much of the continental United States, though typically not farther west than the Rocky Mountains.
Identify
Crown & Thatch
An adult Bronze Cutworm takes a moth-like form and is purple-gray to brown in color. This flying lawn insect has a wide, dark brown band across the center of its front wings. As larvae, they resemble caterpillars with their fat bodies. Larvae are light to dark brown on their upper bodies with a distinct bronze sheen. A broad yellow stripe runs from head to tail down the center of the body, and complementary stripes run along either side of the center stripe. These lawn pests also feature a dark brown collar with three white bars located behind the head. Bronze Cutworm larvae feed deep into the plant crowns. In large quantities, this lawn-damaging insect can consume large areas of grass resulting in a general thinning appearance. Signs of a Bronze Cutworm infestation include clipped leaves, piles of green fecal pellets and larvae present in the thatch. In colder climates, Bronze Cutworm damage can occur under snow cover and symptoms can be mistaken for severe cases of snow mold or winterkill. Birds often peck at the ground to feed on these lawn pests, often a strong indicator Bronze Cutworms are present.
Life Cycle
Generally, Bronze Cutworms overwinter as eggs. The eggs may hatch during warm periods of the winter, but most do not emerge until spring. The larvae of this lawn pest can feed on grass under the cover of snow, and larval development is completed by early to mid-June. There is only one generation of Bronze Cutworm per year.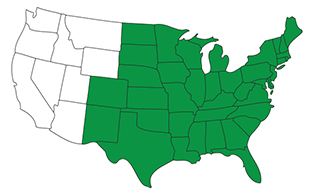 Control
There are two methods for controlling Bronze Cutworms that TruGreen® recommends: 1. Use professionally applied pest control designed to prevent excess lawn pest populations, which can cause damage to your lawn 2. Kill insects, grubs and other lawn pests before they have a chance to damage your lawn Proper mowing and watering techniques can also help foster a healthy lawn that's more tolerant to lawn pest attacks—plus you'll get a lawn you'll want to live on in the process.