Paleseed Plantain
Plantago virginica
Paleseed Plantain is a winter annual broadleaf weed that sometimes behaves as a biennial broadleaf weed. This versatile plant is also known as Southern Plantain, Virginia Plantain or Plantago virginica.
Identify
Rosette
Dentate
Elliptical
Paleseed Plantain can be identified by its basal leaves, which grow from a taproot. These leaves are dense and hairy with slightly toothed, dentate margins on the sides. This broadleaf weed also features a hollow and leafless stalk that terminates in a densely flowered spike without prominent linear bracts. It flowers in mid- to late spring, and reproduction occurs by seeds.
Life Cycle
This broadleaf weed can be found in much of the continental United States and thrives in dry, open and disturbed areas with sandy soils. Paleseed Plantain does not compete well with thick, established grass beds, such as in properly maintained lawns and landscaping areas.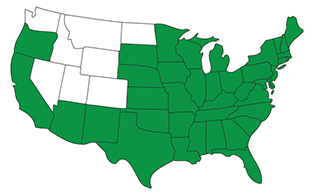 Control
Because Plantago virginica does not compete well with established lawns, cultural practices producing a thick, lush lawn are very effective control methods. These include proper watering and mowing techniques, aeration and fertilization. In cases of advanced infestation or poor lawn landscaping maintenance, selective broadleaf weed killers can be used to eliminate Paleseed Plantain.