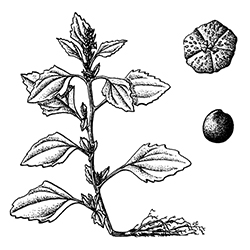 Lambsquarters
Chenopodium album
Lambsquarters is a warm-season annual broadleaf weed that is also commonly called Pigweed, White Goosefoot, Fat-hen, Mealweed, Frost-blite and Bacon-weed. Its scientific name is Chenopodium album.
Identify
Alternate
Upright
Lanceolate
Lambsquarters is a vertically growing broadleaf weed with a gray mealy coating—particularly on the surfaces of younger leaves—hence its nickname, Mealweed. Its stems grow vertically, branch and are hairless, often with maroon strips. The lower leaves are almost always irregularly toothed. Lambsquarters also has a short and branched taproot. Blooming from May through October, Lambsquarters features small, petalless flowers that are green in color and grow in tight bunches at the end of long spikes. Reproduction occurs by seeds.
Life Cycle
This broadleaf weed can be found in croplands, unmowed areas, fallow fields, gardens, vacant lots, construction sites, recently disturbed areas and waste areas. Lambsquarters can be found in most of North America.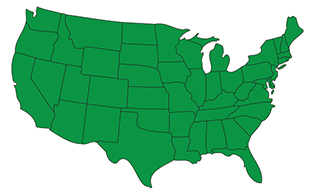 Control
Because of its upright growth habits and preference for low-maintenance turf, good cultural weed control practices can be an effective supplement to professionally applied broadleaf weed killers if removal of Chenopodium albumis desired. These control practices include proper lawn mowing, watering and turf management.