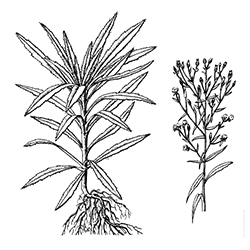 Horseweed
Conyza canadensis
Horseweed can grow as a summer or winter annual broadleaf weed, depending on location. This adaptive plant is also known as Marstail and by its scientific name, Conyza canadensis.
Identify
Alternate
Upright
Serrate
Lanceolate
Horseweed can be identified by its long leaves, reaching lengths of up to 3 to 4 inches long. The leaves alternate in growth patterns and have toothed margins. The stem of this broadleaf weed is covered with hair. Horseweed has a taproot, and the inflorescence (i.e., cluster of flower heads on a stem) is a panicle of heads with pink to white flowers.
Life Cycle
This broadleaf weed grows upright and can reach 5 feet tall if it isn't mowed. Horseweed is found throughout the United States.
Control
Cultural controls include digging up or pulling and removing all Horseweed plant parts from the affected area as soon as possible after germination. TruGreen® uses a selective systemic broadleaf weed killer program to fight Conyza canadensis in your lawn, which ensures the product moves throughout the weed, controlling it completely, root and all.