Hairy Bittercress
Cardamine hirsute
Hairy Bittercress is a winter annual broadleaf weed that is also known by its scientific name, Cardamine hirsute.
Identify
Upright
Pinnate
Lobed
Round
Small, deeply lobed leaves that form a rosette pattern are characteristic of Hairy Bittercress. It is common to see fruiting stems with a slender seed capsule, as well as small white flowers, on this broadleaf weed.
Life Cycle
This invasive broadleaf weed is native to Europe but now can be found in many regions across the United States. It germinates in the fall and infests lawns over the winter and in the early spring.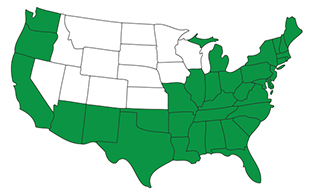 Control
Cardamine hirsute can be difficult to control because it has hairy leaf surfaces that resist herbicide uptake. Professionally selected and applied broadleaf weed killers—based on your specific climate and geography—are the most effective method for control.