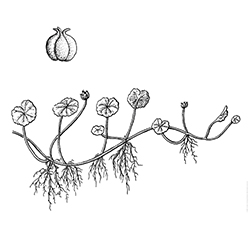 Dollarweed
Hydrocotyle verticillata
Dollarweed is a water-loving, summer perennial broadleaf weed that is also known as Pennywort, Marsh Pennywort or its scientific name, Hydrocotyle verticillata.
Identify
Creeping
Crenate
Round
Dollarweed can be easily identified by its umbrella-like leaves, which attach to the petiole in the center of the leaf. The leaves are round in shape and are about the size of a silver dollar, hence the name Dollarweed. Its leaves are dark-green in color and glossy. Under the right circumstances, this broadleaf weed produces tiny, white, star-shaped flowers with five petals. However, these flowers rarely have an opportunity to form.
Life Cycle
This broadleaf weed is a water-loving summer weed that thrives in warm, wet areas and in damp soil. It can be found throughout the southern part of the United States, from the East Coast to the West Coast and as far north as Oregon.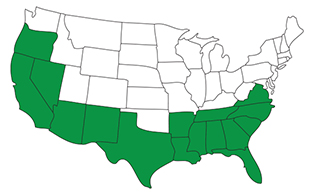 Control
Because it favors water and wet environments, Hydrocotyle verticillata can be fought with cultural practices—such as proper mowing and watering routines—and improving lawn drainage and soil moisture. This broadleaf weed has a hard time invading healthy grass.