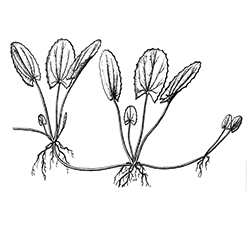 Centella
Centella erecta
Centella is a perennial broadleaf weed that is also called Centella asiatica, Coinwort, Asiatic Pennywort, Spadeleaf and Centella erecta.
Identify
Creeping
Dentate
Reniform
Centella can be identified by its low-growth spreading patterns formed from long rhizomes. Its most unique feature is the shovel or spade-shaped leaves that have toothed margins and are often dark red. The leaves grow on slightly hairy petioles and are generally oriented in an upright or vertical fashion. This broadleaf weed blooms short-lived, white flowers forming in clusters on short stalks at the leaf axils. Reproduction occurs by seeds and rhizomes.
Life Cycle
This broadleaf weed prefers moist to wet sandy soils and commonly grows in lawns along streams, ponds and lakes. Centella can be found throughout much of the southeastern United States.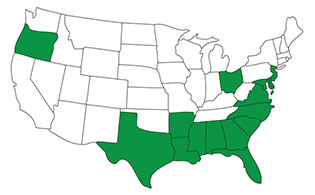 Control
Cultural weed control methods—such as proper watering and mowing routines or pulling weeds—are not recommended for removing Centella erecta if it is present in your lawn. Because the weed grows so close to water, lawn mowing or hand-pulling may not be practical options. Broadleaf weed killer products must be professionally chosen and applied to ensure the safety of nearby aquatic life.