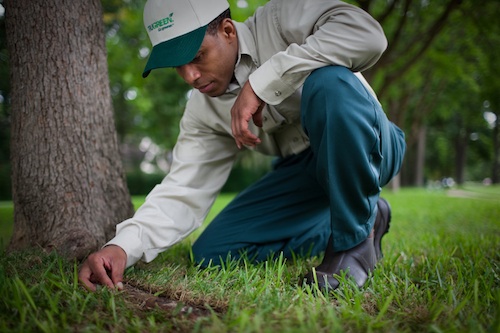 TruGreen® lawn care plans are designed to meet the unique needs of your lawn and landscaping. TruGreen offers a range of products and services that address the various problems you can incur as a homeowner trying to maintain a healthy lawn.
TruGreen offers a variety of lawn care plans, such as the TruMaintenance Lawn Plan, the TruHealth Lawn Plan, and the TruComplete Lawn Plan. All lawn care plans begin with a Healthy Lawn Analysis®, and include Pre-Emergent & Targeted Weed Control and seasonal fertilization. The TruHealth plan adds lime soil amendments, while the TruComplete plan adds both lime soil amendment and lawn aeration. All of TruGreen's lawn care plans are backed by the Healthy Lawn Guarantee®.
After you sign up for one of TruGreen's three comprehensive lawn care plans, here's what you can expect from their knowledgeable and well-trained PhD certified specialists, as well as other services available to you:
Your specialist will visit your home to conduct your Healthy Lawn Analysis. You don't have to be home, though it's always a good idea if you are, so that the specialist can answer any questions you might have. Your TruGreen specialist will always knock on your door to discuss your lawn with you. Your specialist will always leave a service summary at your door whether you are home or not. Make sure to leave gates or any points of entry unlocked, and keep your pets inside on the day your specialist is scheduled to arrive.
You'll receive a service summary evaluating soil condition, climate, lawn usage, and grass type(s). Your certified specialist will use this report to further tailor your lawn service to meet your lawn's unique needs. Make sure to check the notes section for homeowner instructions before the next visit.
Billing and account maintenance. You can log into your account at TruGreen.com at any time to pay your bill. TruGreen will also send you an invoice in the mail about 3-5 days following your completed service visit. You can also set up PrePay— in which you have the option to pay for up to a year in advance to receive 10% off your plan.
Continual lawn care service. After all of the initial steps are complete, TruGreen certified specialists will continue to work with you to improve the health of your lawn and yard, scheduling visits for about every four to six weeks. They will also suggest steps you can take between visits to further improve your lawn care and to help you achieve the healthiest and most beautiful lawn possible. Your service continues year after year with no action on your part unless you notify us of any changes.
What to expect from your services
A visibly more lush and green yard can appear within weeks of beginning your service—but it's not unusual to see changes in coloration or even bare spots as weeds die out in the beginning phases. Rest assured that your TruGreen certified specialist is culling unwanted plants from your lawn, giving your desired grasses room to grow and the nutrients they need to thrive.
If you ever have questions or concerns about your lawn care services, TruGreen provides you with a variety of easy and convenient ways to get in touch. You can send an email using the TruGreen customer support form, call them directly at 1-800-TRUGREEN or visit them at www.trugreen.com. TruGreen also has an archive of helpful information about your lawn care services, including tips and tricks to help you achieve and maintain a lawn you'll love. Check out the TruGreen learning center for all types of educational information for lawn care and more. And don't forget to connect with TruGreen's social communities on Facebook, Twitter, Google+ and Pinterest.