Is seeding or sodding right for your lawn? Learn more and prepare your lawn to take on fall and winter here.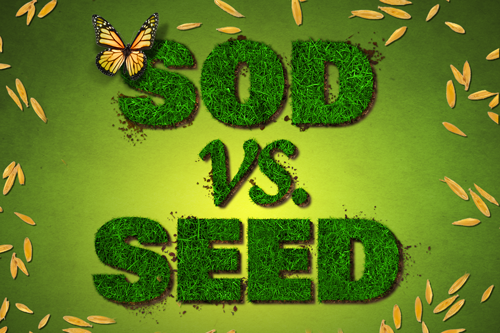 Should I Use Seed or Sod for Fall Grass?
To seed or to sod: that is the question.
Overseeding and sodding are two popular techniques to help prepare your lawn for fall and encourage new grass growth in the spring. Which technique is right for your lawn? We can help:
When To Overseed
Overseeding: The process of planting new grass seed to fill in areas of thinning turf
If you're looking to restore your lawn after the harsh summer heat, overseeding (sometimes referred to as reseeding) is an affordable and quick option to get your yard ready to flourish in the spring.
The process is a great way to improve the density of your lawn and enhance its color.
Overseeding is a great option if your lawn has bare spots, thinning grass, experienced extreme drought, heat damage, or encountered pesky insects and other critters. It's is also a proven method to introduce new varieties of turfgrass into mature lawns.
Overseeding is typically the most beneficial to cool season grasses like fescue, ryegrass and Kentucky bluegrass. It's often combined with lawn aeration to allow for good seed-to-soil contact and aid in seed germination.
Timing is everything with this process, so make sure you schedule your fall lawn maintenance before temperatures begin to drop in your area.
If you do overseed, the first step is to aerate your lawn. Once that's done, it's time to apply the seed. For smaller areas you can use a hand-held rotary spreader, though for larger lawns you'll cover more ground with a full-sized rotary spreader (the kind that's most often used for fertilization).
Some people opt to protect the seed with compost or even wheat straw, which helps to keep everything warm and moist in order to stimulate germination.
You'll need to set a daily watering schedule that will most often require several light waterings each day. Your goal is to keep the seeds moist, so be sure to test you sprinkler duration so you don't oversaturate your seedbed.
When you see the first sprouts you'll know that germination has started. Keep watering with light applications at regular intervals to keep the soil from drying out. Then, once your seedlings reach three inches, you can start to mow.
When to Sod
Sodding: Covering your existing lawn with sod or pieces of turf
Laying sod adds curb appeal to your property and helps reduce lawn maintenance because it's already undergone the maintenance associated with seeding.
Although installing new sod requires less care and maintenance than overseeding, the prep work required for laying it over your existing grass is about the same.
In order for sod to grow properly, the patches of sod have to make contact with soil so it can take root. For the best results, your existing lawn should be extremely sparse or you'll have to bring in dirt and put it on top before laying down any sod.
It's not a bad idea to start watering sections of your sod as you go. The goal is to water until the top inch of soil on the sod strip is wet.
Then, depending on your area's forecast, we recommend a frequent watering schedule until the sod has established roots into your existing yard, which could require up to several lighter applications each day. Once the sod has established roots be sure to ease the watering schedule back a bit. The goal is to keep the plant from wilting, so be sure to watch out for flooding.
Eager to mow so you can impress your neighbors with your lush green carpet of new grass? Once it reaches three inches, you can have at it. If you're still unsure which way to go, contact a TruGreen® PhD-certified specialist by calling 866.688.6722 or visiting TruGreen.com and we'll be happy to talk you through your decision.
Or get a quote today and we can help you prepare your lawn for fall.