New homeowners should take a bit of the stress out of owning your first lawn by bringing TruGreen® to help solve your problems!
Millennials are often credited with being a driving factor behind the recent rapid increase in home buying across the country. However, this is often their first home as well as their first lawn and yard space to look after as a homeowner. We spoke with our friends at Gizmodo about their view on the new problems that come with it.
For Millennials a New Home Means a New Yard… and New Problems
Here's a question for millennial renters out there: What do you do if someone dumps trash all over your yard, your lawn starts to brown, or your grass is up past your knees? Chances are, you call your landlord. But when you finally make the leap and buy your own home, all of those outdoor responsibilities are now yours and yours alone.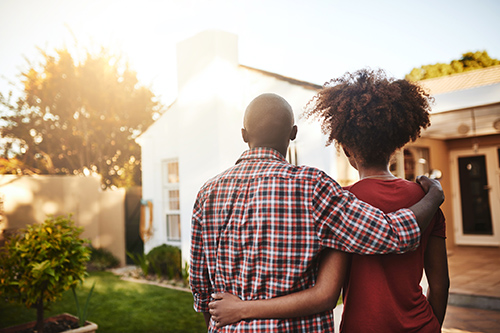 I reached out to some friends and coworkers who recently purchased a home and picked their brains about all the little lawn things they had to learn the hard way. Now it's time to turn their pain into your gain. Here are all the things these new homeowners wish someone had told them before they bought their house.
Your Appliances Are Your Own Problem
This piece of advice was, without a doubt, the most quoted among those I surveyed. From homeowners in Michigan to New York State to rural Pennsylvania, everyone agreed: Everything you own is your problem. Lawn mower doesn't work? Need to learn how to put in a new spark plug. Sprinkler system on the fritz? Time to learn basic plumbing. Propane grill spewing smoke? Cut the gas and check the user's manual.

With that in mind, as a new homeowner, one of the best things your can do for your own peace of mind is to get very familiar with your appliance warranties. Learn them, live them, love them, because from this point on there's no one to call to solve the problem. It's all on you.
The Lawn Needs Some Love
As a renter, the idea of maintaining a lawn seems absurd. But when you buy a home that comes with a bit (or a lot) of greenery, you need to keep it looking fresh. And that includes everything from properly sculpting your trees and shrubs to keeping your grass looking healthy. Whether you've got a sprawling back yard or a small strip of green leading up to your front porch, it's now on you to keep it looking amazing.

Pennsylvania-based new homeowner Amy Sumser found herself taking a crash course in horticulture as she struggled to learn the ins and outs of lawn care before spring. She describes this experience as a race against the clock, with the pressure mounting as the temperature climbed toward sprouting season.

And while there are plenty of books and guides offering contradictory, confusing DIY tips, it's much easier to let a professional take the reins. By trusting TruGreen and their lawn plans — which include lawn evaluations, weed control, aeration and more by PhD-certified specialists — as well as their mosquito control, sculpting, and general maintenance services, new homeowners can take one big to-do off their crowded plates.
Don't Get Too Ambitious Too Quickly
The thought of customizing every available space in your new yard may be tempting, but the homeowners I spoke to regretted going all out. Remember, as amazing as a fully sculpted topiary sounds, you want your lawn to be manageable. Just because a hedge sculpted to look like a lion sounds cool doesn't mean it'll be easy or reasonable to maintain.

And if you go too wild with your front yard, your neighbors (or community board) could have some thoughts on your eclectic style. Instagram and Pinterest are great for inspiration, but sometimes the examples of lawn design you see on there aren't grounded in reality. Get comfy in your new home, learn the style and design-tolerance of your neighbors, and save big changes for later when you have a full grasp on your cul-de-sac's vibe.
Expect (and Budget for) the Unexpected
As if buying a home wasn't already a huge investment, there are tons of hidden costs to be aware of. From small fixes (Don't you just hate that ugly walkway jutting out of your front yard?) to major renovations (Don't you just hate that porch?), a lawn will need plenty of extra love before you settle in.

Gary Tang, a new homeowner in Chicago, recommends setting aside an extra five percent of the total cost of the home on fixes that are missed during an inspection and changes to your yard that don't match your style. Factor that into your total budget before going into the house hunting process, and you'll alleviate some of that surprise money stress.
Don't Forget the Importance of Storage
Michigan-based Russ Bomhoff says he wished he'd set aside more space for his lawn care equipment. Learn from his mistake. He thought his new home was perfect, with plenty of space in the home for the family — until he looked outside. He soon realized he didn't have a shed or garage, and was left scratching his head trying to find a place for his riding mower.

Before you move in, take a step back and really assess your storage needs first. Do you have a huge grill but live in an area where it'll rain and snow for half the year? If so, be sure to factor in a place for it to live during those nasty months. And if you're moving into a home that's already light on raw storage space, there are always prefab sheds, storage pods, and other at-home solutions you can use to store your clippers, mowers, and barbeque grills.

Take a bit of the stress out of owning your first lawn by bringing TruGreen onto your new home team. From high level expert lawn care to the nitty gritty like sprinkler repair services and grub control (it's a thing), TruGreen will focus on your lawn, so you can focus on that strange clanking sound coming from your new grill.