Choosing the best type of lawn fertilizer for your turf, paired with proper application, can help keep your yard nourished and looking its best all year long. Environmental conditions pose a threat to your lawn year-round, from cool or wet spring conditions to hot, humid summers and leaf-dropping autumn weather. Lawn damaging insects, inconsistency in the amount of soil moisture, and potentially spreading diseases can pose a challenge to contend with as well.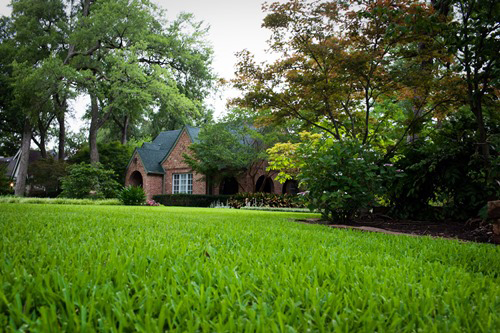 Proper yard fertilization using the best type of lawn fertilizer according to your lawn's individual conditions can help you keep your turfgrass healthy in the face of these daily dangers. The big question is—how do you know which lawn fertilizer is best? If you find yourself using Google or searching through reviews of different types of lawn fertilizer for any hint of which way to turn, you should know: there are better lawn fertilizer application alternatives for your yard.

Best types of DIY Lawn Fertilizer Applications?
If you love your lawn and like to do all your own yard work, it's possible to sort out which fertilizers will help your yard—though it's tough to figure out the best lawn fertilizer option without expert help. If you want to do it on your own:
Know what type of fertilizer to use.
Complete fertilizers contain the three primary macronutrients; nitrogen, phosphorus, and potassium (N-P-K) in one product; many also contain other essential micronutrients.
Balanced fertilizers contain the above three elements in the same amounts (10-10-10 or 15-15-15) and are often not ideal and a more customized ratio of N-P-K is required to meet the needs of your grass type. Recommended ratios may change by the season or may change based on the results of a soil nutrient test, but some common ratios include: 4-1-2, 5-1-3 or 5-0-3 in states where phosphorus use is banned.
"Weed and Feed" fertilizer products contain N-P-K and broadleaf weed killer for common pests like dandelions and are only effective if the weeds are already growing.
Pre-emergent lawn fertilizers contain N-P-K along with weed killers that must be applied before weeds germinate and will not harm weeds that are already actively growing. These products are commonly used to prevent crabgrass.
Follow lawn fertilizer application package directions.
Following the directions on the bag or box to make the fertilizer application is the safest way to apply fertilizer in a "DIY" setting. Too much fertilizer can "burn" your grass, leaving it brown or spindly. Too little lawn fertilizer can leave a yard prone to weed problems and thin growth. Striking the proper balance is essential for lawn care health. Label directions are put together by trained scientists and following them ensures you achieve professional results.
Give the lawn fertilizer application time.
The results of your lawn fertilization efforts may not show up immediately, but you should see some visible results in 7-10 days. Phosphorus and potassium won't automatically promote greening, but will improve the long-term health of your lawn. Don't fertilize again because you didn't see immediate results—you'll risk burning your lawn or setting your grass up for long-term lawn and grass disease issues. Generally fertilizer can be safely applied every 4-6 weeks depending on the fertilizer analysis and application rate. Some fertilizers may only need to be applied 2 - 3 times per growing season if they have a large component of slow-release nitrogen. If you do not see results after waiting a few weeks you may have a soil pH issue. Having a soil test performed by a professional company can tell you if the pH needs to be adjusted with lime or sulfur in order to maximize the benefits and results of fertilization.
Seek the help of lawn fertilization professionals and experts at TruGreen.
If your situation calls for expert or specialized assistance, the professional lawn care members at TruGreen® are ready to help and assist you in selecting the best type of fertilizer for your individual lawn's needs.

Enlist the lawn fertilizer experts with TruGreen
Once you sign up for a TruGreen lawn plan, a PhD-certified lawn care fertilization specialist will come to your home and conduct a Healthy Lawn Analysis®, examining your lawn to determine what it needs to thrive---including the best lawn fertilizer. If you've been doing your own fertilizing for years and are still asking yourself, "what is the best type of lawn fertilizer?"—or if you're new to home-and-lawn ownership and just want the lawn you love without the headache—TruGreen's specialists know how to help and assist you in choosing the best type of fertilizer for your yard. Visit TruGreen.com or call 866.688.6722 today to take the first step toward achieving a lawn you'll love.