TruGreen® supports Pollinator Week to help to inform people of the importance of bees, butterflies, and hummingbirds.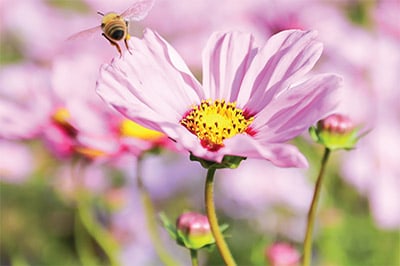 TruGreen is supporting Pollinator Week from June 20 to June 26. Bees, butterflies, and hummingbirds each play an important role in regulating agriculture. By pollinating many of our gardens, they are providing us with a nutritious diet.  Lack of different food sources are preventing bees from being healthy. This means they need our help to sustain their population. That's why TruGreen has delivered more than 110,000 wildflower seed packets to customers and local government partners this spring.
Increasing food and foraging areas for bees and other pollinators is a key strategy of the White House Pollinator Health Task Force established by the Obama Administration and we are happy to be doing our part to support pollinator health. The goals of the National Pollinator Health Strategy are to:
Restore honey bee colony health to sustainable levels by 2025.
Increase Eastern monarch butterfly populations to 225 million butterflies by year       2020.
Restore or enhance seven million acres of land for pollinators over the next five           years.
Want to do your part to help support bee health? Consider planting these herbs, perennials or annuals in your own pollinator garden or check out these EcoRegional Pollinator Guides for more ideas.
 
Herbs:
Borage
Catmint
Cilantro
Fennel
Lavender
Sage
Perennials:
Anemone
Aster
Buttercup
Crocus
Geranium
Hollyhocks
Snowdrops
Annuals:
Calendula
Cleome
Heliotrope
Poppy
Sunflower
Sweet alyssum
Zinnia
Source: https://www.epa.gov/pollinator-protection/federal-pollinator-health-task-force-epas-role & http://www.pollinator.org