TruGreen® is committed to the communities we serve. Read how corporate partners and employees can make a difference to our friends at the Salvation Army.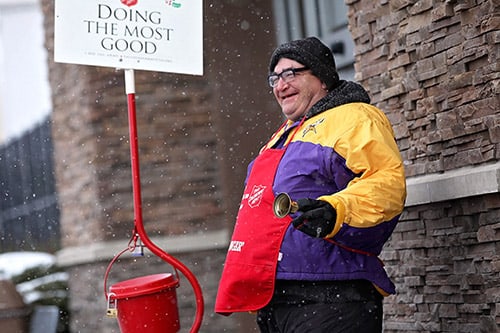 Joining the Fight For Good Corporate partners make a huge impact on The Salvation Army's Red Kettle Campaign
The Salvation Army has been Doing the Most Good since its founding in 1865, when founders William and Catherine Booth began serving the most poor and vulnerable of London's population with a bowl a hot soup, a bath, and a warm, safe place to sleep. That battle against poverty and injustice has continued for more than 150 years, but it hasn't been fought alone. Nearly 25 million people receive help from The Salvation Army each year through a range of services, and corporate partners play a huge role in that effort.

The origin of the iconic Salvation Army Red Kettle is a great example of this. In 1891, Salvation Army officer Captain Joseph McFee committed to serve 1,000 of San Francisco's most poor and destitute, but had no money to provide the food. After searching for a solution, he remembered seeing a stewing pot being used to collect coins for the poor in England. The next day, Captain McFee received permission from the authorities at the Oakland Ferry Landing (think Walmart, Belk, or Publix today) to place a kettle there to raise the money to feed the poor. It was so successful each year that it spread throughout the United States, and now the world. Salvation Army Red Kettles can be seen in countries such as South Korea, Japan, Chile, Australia, and many European countries.
This Christmas season, The Salvation Army's theme for the Red Kettle Campaign is the Fight For Good, and there are countless ways individuals and businesses have been joining the fight. Some businesses allow The Salvation Army to place kettles outside their front door, promising to match any donations made to that kettle. Others adopt Salvation Army Angel Trees and encourage employees to buy Christmas gifts for families and kids in need, like was done this year at TruGreen locations all around the country. Others volunteer their time to Salvation Army programs, serving a hot meal to the homeless on Thanksgiving Day, collecting food for local Salvation Army food pantries, or working with youth in after school programs.
All this support helps us provide Christmas assistance to more than 3 million children and families every year, but it doesn't stop there. The Salvation Army provides more than 56 million meals and 10 million nights of shelter every year, and uses donated funds and volunteer hours to run community centers, substance abuse recovery programs, senior citizen programs, and much more. The Red Kettle Campaign and everything The Salvation Army seeks to do for those in need is only possible because of partners ranging from the Oakland Ferry Landing in 1891 to corporations like TruGreen today, and we could not be more grateful for them.
TruGreen contributes to the Salvation Army, which allows our local branches the opportunity to give back to the communities in which they live and work.  In Memphis at TruGreen headquarters, the company supports the Salvation Army through Angel Tree adoptions and Red Kettle donations during the holiday season.  Kate Oliver, vice president of Customer Care for TruGreen, is a member of the Salvation Army's Memphis Area Command Advisory Board.  "Community is one of our core values at TruGreen, and our associates love being a part of the meaningful work the Salvation Army achieves," said Oliver.
As corporations, whether local or national in scale, step up to join The Salvation Army or any other charitable organization, they help to infuse hope and life into those who need it most. Bellies, beds, and hearts are made full when we ban together to meet the greatest need. Here at The Salvation Army, we call that "Doing the Most Good."
 ------------
The Salvation Army is calling everyone to join the #FightForGood by donating to red kettles in-person or online at www.RedKettleReason.org. We also encourage those interested in volunteering to contact their local Salvation Army office and join the fight now. Not sure how to find your local Salvation Army? Just use our "Locations" search feature at: www.SalvationArmyUSA.org.