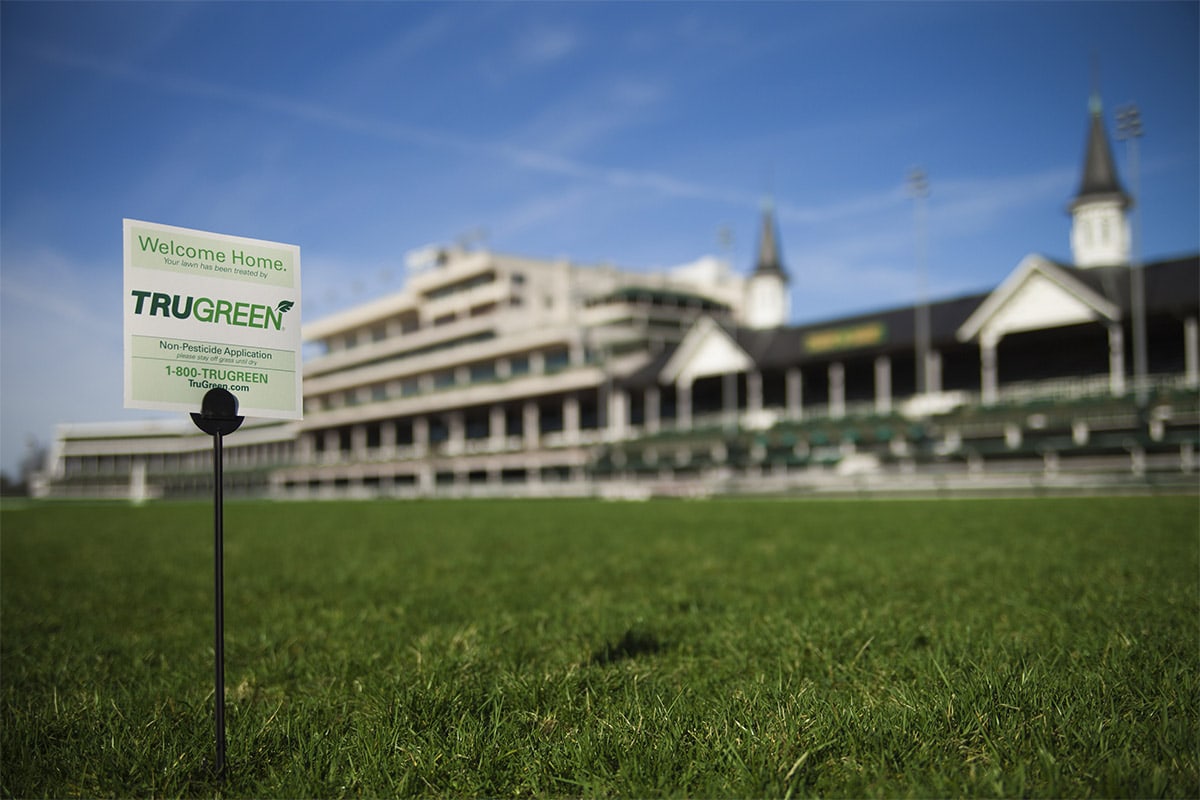 As a Proud Partner of Churchill Downs, TruGreen® will care for about 37 acres of turf at the home of the Kentucky Derby.
Churchill Downs Partnership
TruGreen is proud to announce a new partnership with Churchill Downs, home of the Kentucky Derby. Joining as a Proud Partner, TruGreen specialists will care for about 37 acres of turf at the facility.
"TruGreen treats several high-profile areas of turf at Churchill Downs," said Region Commercial Sales Manager, Mark Rollman, Indiana Region (which also encompasses Central Illinois and Kentucky). "One of the most high-profile areas we manage is the turf track that sits right inside the dirt track. Races typically alternate between the dirt and turf surfaces throughout the year."
The first application was March 8 with an amendment to properly begin to adjust the soil micronutrients of the turf track.
"The turf at Churchill Downs is actually a combination of many different grasses," Rollman said. "It started off with Kentucky Bluegrass, which over the years has been blended with other grasses such as Turf Type Tall Fescue. We also treat the famous turf at Aristides Garden and the Paddock, where the horses are paraded just before The Derby and other major races. All told, our team maintains the high-profile turf inside and outside the facility, provides vegetation control in the parking lots/cracks and crevices, and we help care for the beautiful burning bushes that line the entire track."
"Churchill Downs accommodates more than 165,000 guests on Kentucky Derby Day and draws an estimated 16 million television viewers," said Chief Marketing Officer, Kari Rajaniemi. "The partnership is a perfect pairing for TruGreen. Although the Derby is known as the 'Greatest Two Minutes in Sports,' we are tapping into years of reputation built by the racetrack, leveraging a stronger impression in the marketplace with racing enthusiasts and ultimately strengthening our brand."
Churchill Downs currently holds the record for the longest-running continuous sporting event in the United States. "Thoroughbred racing has run at the Churchill Downs Racetrack since 1875," added Rajaniemi. "The team there shares TruGreen's values with first-class customer service and a strong history of giving back to the community it serves. I'm excited about the opportunity this relationship presents for our brand."