We've made it easy to compare and contrast the time and money you might invest in DIY lawn care to spending quality outdoor time with your family.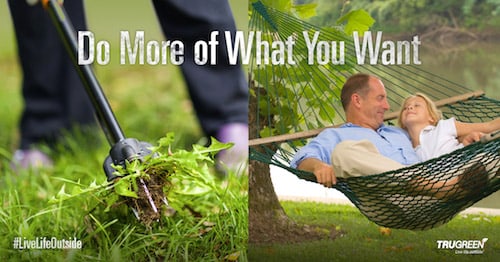 The average American homeowner spends 150 hours per year maintaining their yard. The same average American also only gets 128 hours of paid vacation time per year.
Shouldn't you be spending more time doing what you love, and less time worrying about your lawn? We think so.
Before you open up your wallet and close off your weekend for another DIY yard project, think about what you could be doing instead if you hired a lawncare professional.
Fertilizer
You could…Fertilize your grass yourself
Time spent: a full afternoon every five weeks (spring through fall)
Money spent: $50 for a bag of fertilizer covering 5,000 sq feet.
$40 for a manual spreader, or up to $300 for a pull spreader.

But you should…Rent a bounce house for the afternoon at $30/hour. Let the kids tire themselves out and then take your turn (because we could all use some jump around time).

 
Reseeding
You could...Reseed grass on your own
Time spent: four hours removing dead grass with a cutter, plus a full day seeding.
Money spent: For a full reseed, as much as $500. For an overseed with aeration, about half that.

But you should...Admire a beautiful lawn at a baseball stadium, where the average cost for a family of four to attend a game ($212) is still less than an overseed. Heck, for that price, make it a double header! 
Pest Control
You could...Spray your own pesticide 
Time spent: A lovely morning inspecting your home for cracks and crannies where bugs live.
Money spent: $20-$100 for insecticide and up to $200 for a heavy-duty sprayer.
Also: BUGS!

But you should…Take that money and host a backyard barbecue this summer. Enjoy the peace of mind knowing all that food won't be attracting any creepy crawlers.
Weed Control
You could...Pull your own weeds 
Time spent: A few hours in the spring, with no guarantee they won't come back.
Money spent: The labor is free, but a bag of mulch can run you $85.

But you should...Buy a double hammock for $85, curl up with a good book and a tasty beverage, smile as you remember you're not pulling weeds.

Sign up for a customized TruGreen natural lawn care plan to save time and money so you can do more of what you love. Visit TruGreen.com and remember to #LiveLifeOutside