A warm winter paired with later storms can mean damage to your trees and grass. Learn what to watch for this season.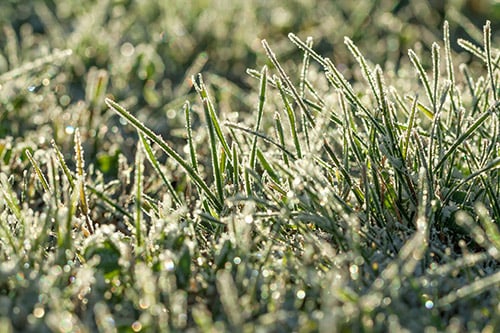 Did you know that last month was the fourth-warmest December on record for the globe?
It may be hard to imagine for those currently being impacted by Winter Storm Jaxon, but 2017 was recorded as the third-warmest year in NOAA's 138-year climate record.
Under the lens of lawn care, weather conditions jumping from unseasonably warm days to below-zero freezing winter storms — sometimes overnight — can wreak havoc on your grass, trees, and plants (and sometimes sanity). Below we review some common problems that can arise in your yard from rough winters.
How winter weather can impact your yard
Winterkill
Winterkill is a term used to describe injury of turf during cold weather. It can be caused by:
Low-temperature injury: Occurs when grasses, which have not hardened off, are exposed to below-freezing temperatures. Freezing and thawing in late winter accompanied by high soil moisture is a common cause of low-temperature kill.
Winter dehydration: Occurs under prolonged periods of cold and windy conditions with little or no snow cover.
Fungal diseases such as gray or pink snow mold.
To prevent winterkill, water lawns during prolonged dry fall and winter periods to prevent root damage, but only when air and soil temperatures are above 40 degrees with no snow present. The best plan of attack is prevention: TruGreen's winterization application can help your lawn maintain its health through wintry conditions.
Winter burn (aka desiccation)
Desiccation occurs when the tree or plant leaves continue to lose water which is not replaced. This injury is usually associated with dry or frozen soil. Evergreen trees planted in areas exposed to harsh winter winds are especially prone to this injury. Watch for symptoms that include marginal leaf scorch, tip burn, leaf mottling, leaf drop, or death of entire leaves, twigs, or plants.
Low temperature
Low temperature injury occurs when temperatures drop below a plant's tolerance and with inconsistent weather conditions. Frost cracks and/or sunscald on tree trunks results when a temperature drop occurs after the bark has warmed up. Symptoms include brown or black leaves, stem or branch dieback, bark splitting, and occasionally entire plant death.
Early blooming
In addition to the impact to tree bark and branches, the University of Illinois Extension warns that alternating days of freezing and thawing soil can also trigger flowering in some plants. For prematurely flowering trees and shrubs about to experience a freeze, cover the plant with a fabric sheet (not plastic) to keep in heat and insulate against the dipping temperatures. For smaller plants, like bulbs, apply a thin layer of mulch (such as leaves) for added protection against freezing temperatures.
Heavy Snowfall
Large amounts of heavy snow can damage and break tree twigs and limbs. Help your tree by cleaning up after a snowfall to avoid accumulation, but go easy on the branches while removing snow so you don't cause any breakage. We recommend lightly brushing snow off the branches with your hand or a broom, sweeping toward the trunk. If the snow is frozen, give it time to melt.
Once spring arrives, prune injured or dead branches and twigs after growth has started. Provide water and nutrients for healthy growth and less complaints. If you're concerned about winter damage to your trees, schedule an appointment with our specialists to give your trees a little extra help.
Prepare for a healthy spring
Whether you're in Chicago or Knoxville, Detroit or Dallas, or anywhere else in the country, winter won't last forever, and before you know it we'll be headed into a warmer spring. From your trees and shrubs to your grass, if your yard needs a little help recovering from this past winter, we can help. Click the orange button at the top of the page to get a custom quote for any of your lawn care needs!