Use this lawn maintenance checklist to get your lawn in top shape this spring.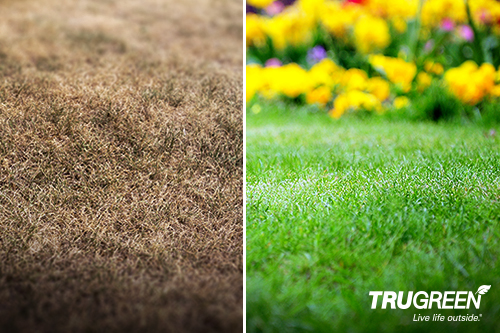 Spring is almost here, which means more time outdoors enjoying cookouts, touch football games and other fair-weather activities.
 But before you can revel in all your yard has to offer this season, it'll need some whipping into shape after the dormant winter months.
Read on for tips on how to breathe life back into your lawn and keep it looking great all season long.
Two Zones, Two Timelines
First, a quick word about grass. Generally speaking, lawns in the U.S. can be separated into two distinct regions or zones: those that grow cool-season grasses, and those that grow warm-season grasses. The type of grass you grow affects when you should perform certain lawn care tasks.
States that typically grow cool-season grasses include: Illinois, Indiana, Kansas, Kentucky, Missouri, North Carolina, Ohio, Tennessee, Virginia, West Virginia, Connecticut, Delaware, Idaho, Iowa, Massachusetts, Maryland, Maine, Michigan, Minnesota, Montana, Nebraska, New Hampshire, New Jersey, New York, North Dakota, Oregon, Pennsylvania, Rhode Island, South Dakota, Utah, Vermont, Washington, Wisconsin and Wyoming.
States that typically grow warm-season grasses include: South Carolina, Georgia, Alabama, Mississippi, Louisiana, Florida, California, Arizona, New Mexico, Texas and Arkansas.
Of course, even within these zones weather will vary from state to state and year to year, which will influence your specific lawn care timeline. The dates mentioned below are more guidelines than hard deadlines.
Now, without further ado, here's your spring lawn care checklist.
1. Tune up your lawn mower
After sitting idle in your garage or toolshed all winter, your mower will need a little TLC. Check the spark plug, clean or replace the air filter, change the oil and get the blade sharpened. 
When to do it:
Cool-season zone: Sometime in March to beat the spring rush on blade sharpening and other maintenance, but not so early that gas and oil is sitting in the machine for too long before use.
Warm-season zone: Late February, so you're ready to mow come March.
2. Clean up debris
In the spring, your yard will be host to a certain amount of fallen leaves, sticks, twigs and other debris. If not removed, this layer of plant scraps can smother your lawn and leave unsightly dead patches in your yard. Clearing this refuse also makes way for herbicide and fertilizer treatments.
When to do it:
Cool-season zone: Whenever the snow melts!
Warm-season zone: In February before your lawn becomes active again.
3. Get a jump on weeds
Pre-emergent herbicides will help fend off annual weeds such as crabgrass before they rear their ugly heads. Pre-emergents are most effective when the soil reaches weed-germination temperature — 58 degrees in the case of crabgrass. You can pick up a soil thermometer to help determine the proper time, or consult with a lawn care specialist to advise about all things herbicide.
When to do it:
Cool-season zone: Using a soil thermometer is the best way to determine when it's time for pre-emergent treatments, but usually around March.
Warm-season zone: Your soil will warm up sooner, so as early as February.
4. Poke some holes
Lawn aeration helps loosen compacted soil and open up your lawn to more easily receive water and nutrients. Aeration is one of the best ways to thicken and strengthen your turf and improve the overall health of your lawn.
When to do it:
Cool-season zone: In March or April, while the soil is still relatively moist, or in early fall allowing for enough time for growing before the first frost.
Warm-season zone: In April, before the hottest summer weather arrives.
5. Start mowing
Wait until your grass is about three inches tall to start mowing, and don't cut more than a third of the grass' height. Most grass types should be kept at least two inches tall — longer, thicker turf helps combat weeds and conserve water in the soil.
When to do it:
Cool-season zone: When grass reaches three inches — usually sometime in April (after snow has melted).
Warm-season zone: When grass reaches three inches — usually around March.
6. Spread fertilizer
Your lawn will be hungry after a long winter. Give your yard a boost in the spring with an initial dose of fertilizer. For the first treatment, a light application will do.
    When to do it:
Cool-season zone: Starting in April and then every 6 to 8 weeks.
Warm-season zone: Starting in March and then every 6 to 8 weeks.
7. Apply post-emergents
For weeds that decide to pop up despite your best prevention efforts, you can turn to either selective or nonselective post-emergent herbicides. Selective treatments are formulated to kill only specific plants; nonselective products will kill any plant they're applied to — including your grass. A TruGreen® specialist can assess your weed problem and recommend a tailored post-emergent herbicide solution.
 When to do it:
Cool-season zone: Starting in May, if necessary
Warm-season zone: Starting in April, if necessary
8. Water
Last but not least, every lawn will require a good amount of high-quality H2O. Some of this will come from rainfall, but during hotter, drier months, you'll likely need to supplement nature's bounty with your garden hose. Aim for about one inch of water per week. An easy way to measure an inch of water is to spread a few empty tuna cans across your lawn as you water. When they're full, that's an inch.
 When to do it:
Cool-season zone: Starting in June, if rainfall is below one inch per week.
Warm-season zone: Starting as early as March.
If you have any questions or concerns about maintaining a healthy lawn this spring the experts at TruGreen are always available to help. Every TruGreen consultation start's with a Healthy Lawn Analysis® by a TruGreen PhD-certified specialist.
From there, TruGreen will develop a lawn care plan specifically tailored to your lawn's needs. And with TruGreen's Healthy Lawn Guarantee® you can be confident you'll end up with a lawn you'll love.
For more information about TruGreen's range of lawn care services, call 866.688.6722 or visit TruGreen.com.