At TruGreen, we take pride in our ability to create stunning, green outdoor spaces for people so they can spend more time outside. In pursuit of this mission, our sponsorship with the PGA TOUR was a natural fit. Both PGA TOUR and TruGreen rely heavily on impeccable agronomic practices to deliver the best living and playing conditions.
As the Official Lawn Care Treatment Provider of the PGA TOUR, PGA TOUR Champions and TPC Network, we are actively looking forward to our ongoing sponsorship over the next few years.
About PGA TOUR
The PGA TOUR, headquartered in Ponte Vedra Beach, Florida, co-sanctions tournaments on the PGA TOUR, PGA TOUR Champions, Korn Ferry Tour, PGA TOUR Latinoamérica and PGA TOUR Canada. Members on the PGA TOUR represent the world's best players, hailing from 28 countries and territories outside the United States (90 international members). The PGA TOUR has long-term domestic distribution partnerships for broadcast coverage on CBS, NBC and Golf Channel and video streaming service on ESPN+. Internationally, PGA TOUR coverage is available across 200+ countries and territories in 27 languages via 43 local broadcast partners, in addition to the digital streaming service platform GOLFTV powered by PGA TOUR. Virtually all tournaments are organized as non-profit organizations to maximize charitable giving, and to date, tournaments across all Tours have generated more than $3.37 billion.
About TruGreen
TruGreen is America's #1 lawn care company providing homes and communities across the country with lawn, tree and shrub, pest solutions and more that are tailored to the unique needs of their environments. We understand the importance of having a lawn that you can be proud of and want to help our customers achieve the outdoor living space of their dreams.
With more than 300 branches and 43 franchise locations in the U.S. and Canada, TruGreen is committed to providing customers with beautiful lawns that serve as the foundation for their outside experiences.
First Tee College Scholarship Program
In October of 2020, TruGreen announced its support of the First Tee College Scholarship Program. First Tee is a youth development organization that uses golf as a catalyst for personal growth. As a Trustee, TruGreen helped to expand the scholarship program to include alumni pursuing careers in agronomy, plant science and other science-based professions.
To accomplish this, our expert associates at TruGreen serve as mentors to students in the program. Through professional development and educational sessions, our associates share industry knowledge and science-based expertise with the students. The program also provides scholarships up to $5,000 per year for four years, and scholars will receive assistance with internships and full-time employment placement post-graduation.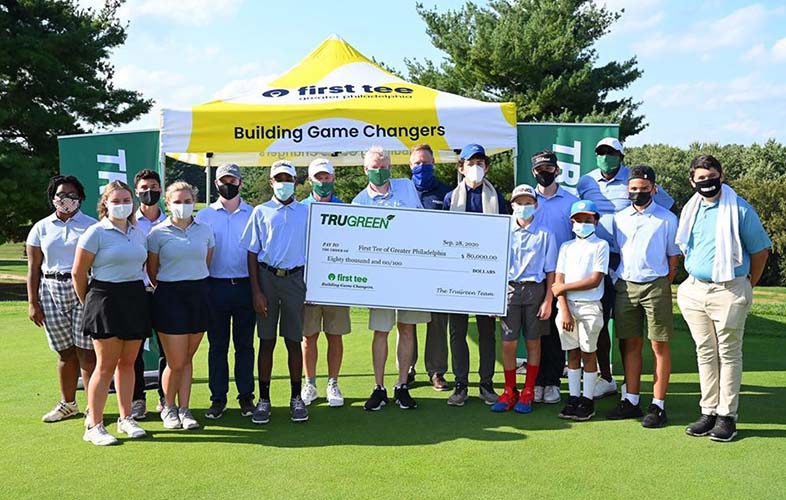 The TruGreen Backyard
In an effort to provide a family-friendly atmosphere with interactive games and refreshments at select PGA TOUR events, we were thrilled to develop The TruGreen Backyard and engage with fans. The TruGreen Backyard was our ode to outdoor living. We wanted to create an environment that was perfect for relaxing without missing out on the PGA TOUR action.
The TruGreen Backyard encapsulates the feeling of being in your dream backyard and includes several shaded seating areas, outdoor games dispersed among conversational seating, a designated family area complete with a playset and sandbox, comfortable seating areas throughout and so much more.
This immersive experience debuted at the World Golf Championships-FedEx St. Jude Invitational and is a staple of our sponsorship of the PGA TOUR.
Additionally, it is a featured fan experience at the 2022 Honda Classic. We invite you to join us for food and drinks as you take in the views of the iconic Bear Trap. The TruGreen Backyard is perfectly located between the 11th and 17th holes and has direct visibility of the video wall with full tournament coverage allowing you to feel right at home without missing the action.