Fall is the best time to introduce new seed into an existing lawn of cool-season grasses. But, depending on your grass type, overseeding in spring can yield good results, too, if it's done early enough in the spring to give seedlings enough time to mature before the onset of the summer heat.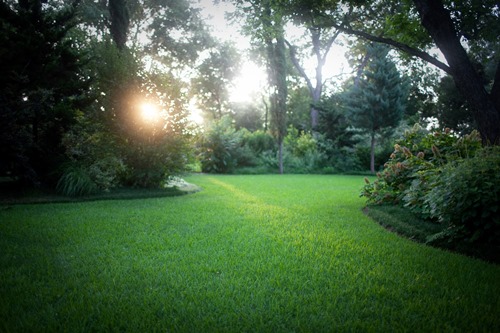 Why should you overseed your lawn in the Spring?
The reasons why spring overseeding might be the best option for revitalizing a thin or damaged lawn with bare patches are the same as they would be for fall overseeding. If the lawn contains just a few bare or damaged areas, then spot seeding is usually the more appropriate procedure. Overseeding is used for larger areas where the turf is thin but not bare.
While the best time to reseed or overseed your lawn is in the spring or fall, overseeding is similar in most other respects. Using the seed of new and improved types of turfgrass will make the lawn better resist stresses caused by diseases, insects and drought. It's important, however, to pay close attention to soil moisture when overseeding in spring. The tender turfgrass seedlings will need frequent light watering to get them established before the hotter, drier weather of summer arrives.
How to get the most out of overseeding in the spring
The effectiveness of overseeding, whether done in the spring or fall, is enhanced when it is combined with lawn aeration. The process of extracting small cores of soil from the lawn is also called core aeration. In addition to allowing water, air and fertilizer better and deeper access to turfgrass roots, aeration also provides better seed-to-soil contact, which greatly aids seed germination and the growth of seedlings. It is helpful to core aerate before and after seeding into an existing lawn. Generally, the seed is applied with a rotary or drop spreader, usually by halving the seed into two lots and spreading each lot in a different direction to ensure more even coverage.
After overseeding in the spring, it's important that you do not apply pre-emergent weed control to this turf. This could hamper the new seedlings in the same way it controls emerging crabgrass.
Overseeding lawns in spring can thicken lawns and make them more attractive, but it's hardly just a matter of throwing the best grass seed onto the lawn. The process requires know-how, specialized lawn care equipment and lawn care follow-through to make it successful—the type of knowledge and services offered by TruGreen®.
Your TruGreen specialist will create a tailored, scientific approach to your lawn care service that gives your lawn exactly what it needs to reach its full potential. That's how they help you achieve a lawn you'll love. And the work is backed by the TruGreen Healthy Lawn Guarantee®, which means a TruGreen specialist will visit your property as often as necessary to make adjustments to ensure your satisfaction*.
If you want to discuss whether spring overseeding is right for you, or you want to learn more about how TruGreen can help you achieve a lawn you'll love, call 866.688.6722 or visit TruGreen.com today.