Today, there's growing interest in natural and organic products, including those used in lawn care. One question that frequently arises during a discussion of natural or organic lawn care is, What is the difference between organic weed control and natural lawn care? It's a legitimate question, but one that begs for a broader discussion of the use of natural products and their role in providing a lush, weed-free lawn.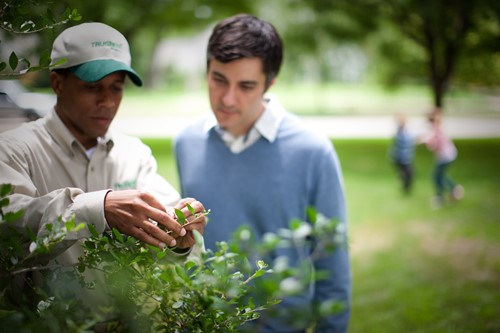 The trick to a having a great lawn that's the envy of your neighborhood is not a trick at all. Healthy, thick and lush green grass makes a great lawn. Great turfgrass results from a science-based approach, whether the program is based upon the use of natural products or otherwise. A healthy, thick lawn resists weeds because it outcompetes them and gives them less opportunity to grow. Proper watering and mowing also help to improve your turf's vitality and make it less susceptible to weed invasion. Your healthy lawn, in effect, becomes its own form of natural weed control.
This approach to lawn care is based upon the use of products that contain fertilizer nutrients derived from animal components such as bone meal, feather meal and blood meal—including manures—along with plant by-products like corn gluten meal. In addition, natural minerals such as potash may be part of the formula.
The TruGreen® TruNatural®Lawn Plan uses 100% natural fertilizer that encourages healthy grass growth. This all-natural way to care for your lawn does not use traditional weed control. The TruNatural plan will gradually thicken your lawn, but weeds may still need to be managed, especially if they were already present in your lawn. Since eliminating weeds that are already established in your lawn can be extremely difficult, it's best to call on a lawn service professional. While TruNatural can help reduce new weed growth, it will not eliminate existing weeds on your lawn.
Benefits of TruGreen TruNatural lawn plan
If you desire an organic weed killer for your lawn, you can request an additional hand-detailed weed application using conventional products to control broadleaf weeds at no additional charge. A TruGreen TruExpertSM certified specialist uses a dual-line delivery system to limit the use of weed control products.
So you see, the simple question about "What is the difference between organic weed control and natural lawn care?" actually involves the broader topic of natural lawn care and development of a thick, healthy lawn—which provides its own form of natural weed control.
To learn more about TruNatural, TruGreen's natural way to care for your lawn, call 866.688.6722 or visit TruGreen.com. By signing up for the TruNatural Lawn Plan, you qualify for the TruGreen Healthy Lawn Analysis®, and your lawn is protected by the TruGreen Healthy Lawn Guarantee® for as long as your plan is in place.