Learn about red thread lawn disease and how you can treat it.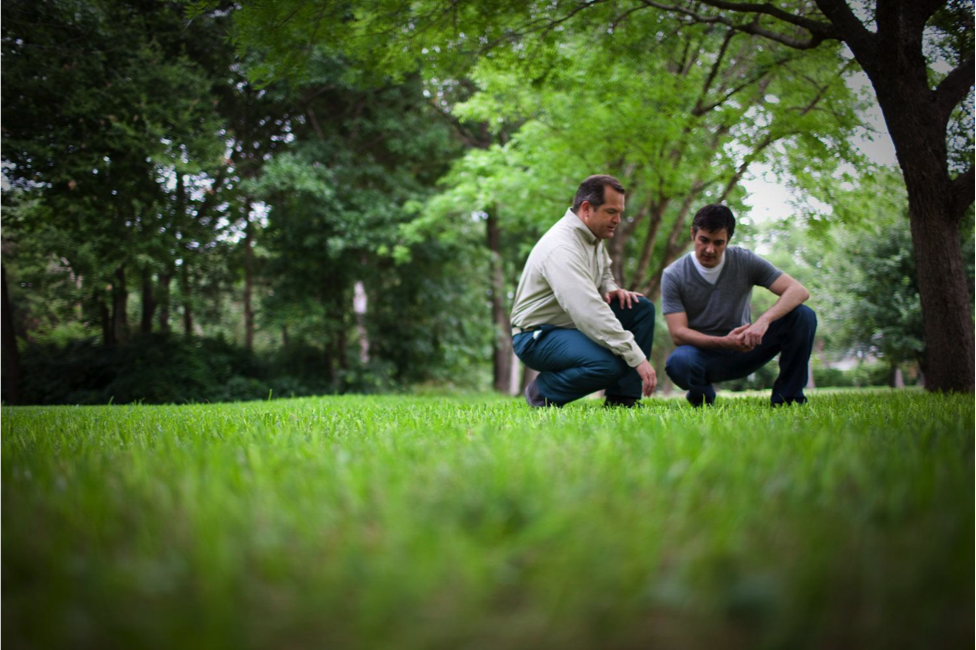 As summer comes to an end, the arrival of fall may bring an unwelcome guest to your yard: red thread lawn disease
Red thread, also known as Pink Patch, is a foliar disease that can occur on taller mown turfgrasses during the spring and fall seasons. The fungus disease is more severe in cooler, humid areas of the Pacific Northwest on damp, slow-growing, nitrogen-deficient turfgrass such as bluegrasses, bentgrass, fescues, bermudagrass and perennial ryegrass.
Signs of red thread include water-soaked spots covering a large portion of the grass leaf, and as they enlarge, the tissue may dry out and fade to a tan color. The leaf may also be covered with pink fungal growth that extends from the ends of the leaf blade and onto the surface of the leaves. The circular patches are often about 4 to 8 inches in diameter.
According to Purdue University, other lawn diseases including dollar spot, and pink snow mold can exhibit similar signs and symptoms. Red thread, however, is distinguished by the presences of the sclerotia (a compact mass of hardened fungus). 
This disease is often associated with malnourished, low-quality, slow-growing turf. Not coincidentally, the best way to treat this particular grass fungus is with a balanced lawn fertilization program and specific watering habits, even though some fungicides can suppress these types of grass diseases. 
In most cases, there's no real need to use a fungicide—but that's a decision for an expert to make, depending on the severity of the disease or as a preventative measure.
If you suspect your lawn may have red thread lawn disease or some other grass fungus, bring in the trained eyes of a TruGreen® PhD-certified specialist and let him or her perform a Healthy Lawn Analysis® on your yard. TruGreen will design a tailored approach to give your lawn exactly what it needs at exactly the right time. Call us now at 866.688.6722 or visit TruGreen.com to learn more.