Preventing and Controlling Lawn-Damaging Grubs
Lawns are constantly fighting a battle against the elements of nature. Not only are drought and weeds frequent threats to a healthy turf, but lawn-damaging insects, like grub, can be just as big of a challenge. Even the healthiest of lawns are at risk for these pesky pests that can be out of the most vigilant homeowner's control.
Grubs seek the finer things in life when looking for their ideal habitat, preferring sunny and well-hydrated lawns over shaded, drought-stricken turf. Grub prevention is the best way to keep your turf lush and healthy for all of your favorite outdoor activities. And luckily, TruGreen has professionally trained specialists who can help!
What is a White Grub?
White grubs are the larvae of several types of beetles. Female beetles lay as many as 60 eggs in their lifetime and when these eggs hatch, the white-colored, six-legged larvae quickly begin looking for something to eat.
This common lawn-damaging insect feeds on the roots of your grass in certain regions across the United States. Although they are still young, the damage caused by grubs can be detrimental to an otherwise healthy lawn.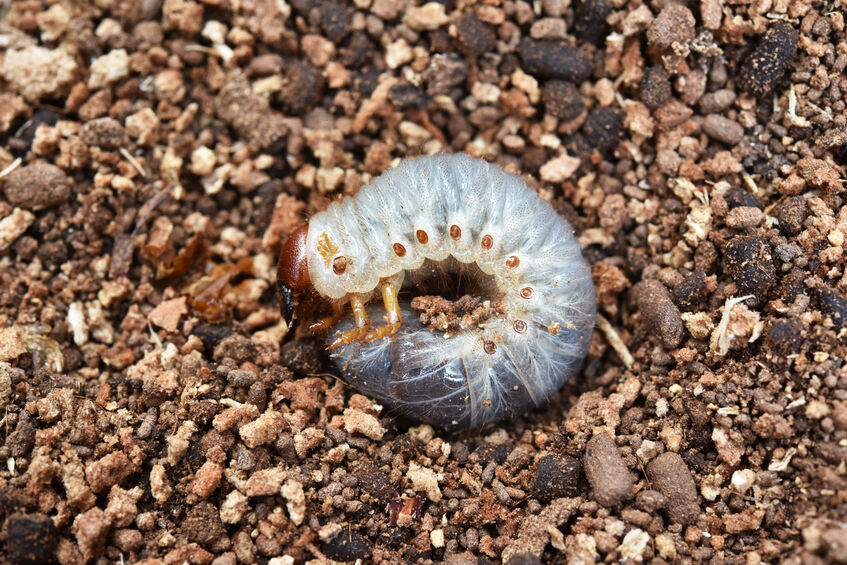 How Grubs Can Damage Your Lawn
While it may seem obvious why beetle larvae are not desired by homeowners, it is important to understand what white grubs do and how they can harm your lawn. These hungry grubs hatch in the soil and burrow to feed on the roots of your lawn. Without roots, your lawn cannot take up any water or nutrients which causes your turf to wilt, turn brown and eventually die.
Similar to drought stress, grub problems tend to occur in the late summer and early fall and this is initially identified as wilting grass. This can cause confusion for homeowners trying to determine what problem is actually occurring, further delaying the start of the correct treatment. If left untreated, grubs can attract birds and animals scrounging the lawn for food, causing the lawn to sustain even more damage.
Benefits of Preventive Grub Treatments
Homeowners deserve to live without worry of lawn-damaging pests, like white grubs, and enjoy their green space. Treating these pests allows for a healthy, maintained turf that is full and plush. When you proactively treat your lawn for grubs, you can take pride in creating a comfortable space that is protected from these pests. And when you use TruGreen for your treatment, your home's lawn will also be protected so you don't have to worry about future pests entering and causing destruction.
TruGreen Grub Preventative & Control
Are you ready to stop grubs in their tracks before they even appear? TruGreen recommends a preventative application applied in the late spring to early summer to protect your lawn before egg hatching season begins. It becomes very pricey to address a grub infestation after it has already occurred, but with TruGreen's preventative grub control, we guarantee results! If our customer pays for a preventative grub treatment and grub damage occurs in their lawn within the current season, we will reseed the area to repair the damage at no additional cost to the customer. It's like insurance for your lawn!
TruGreen specialists will schedule your preventative grub control at the optimal time of year, just prior to egg-hatching season, to maximize its effectiveness. After the application, the treatment will need to be thoroughly watered into the soil to move it towards the root system. The treatment will stay in the root system throughout the season, controlling grubs before they have a chance to feed on your turf's roots.
Get One Step Closer to Your Dream Lawn
There are so many different factors that go into creating the right combination of lawn care treatments for a perfect yard. Partnering with TruGreen and our experienced team can help answer any questions you may have about getting your lawn set up for success.
TruGreen's lawn services are some of the most comprehensive in the industry and are tailored to your lawn's specific needs.
First things first, our professionally trained specialists will get the lay of the land. Once a plan has been tailored to the unique needs of your lawn, you can proceed with confidence knowing that your lawn is backed by the TruGreen Guarantee®, which means that, for as long as your plan is in place, our specialist will gladly revisit your property between scheduled visits to ensure your satisfaction.
To learn more about TruGreen's lawn plans and services call today at 866.688.6722 or compare our plans here.