Has your lawn ever been diagnosed as having a lawn fungus? Don't be embarrassed. It can happen to anyone's lawn. In fact, there might be a lawn fungus running rampant at this very moment and you don't even know itthough chances are you'll notice something's wrong.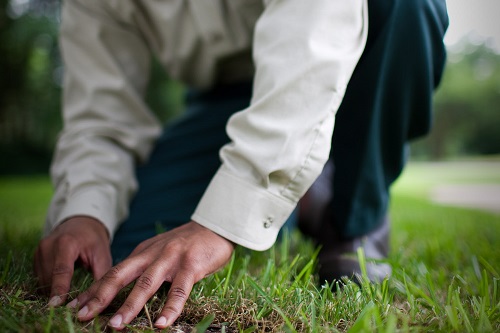 There are many types of lawn fungus that can pose a threat to your lawn. Cool or warm temperatures, over- or under-fertilization, unbalanced fertilization and certain watering habits all can contribute to the onset of a lawn fungus or lawn disease. There are a number of signs that a lawn fungus of some sort is affecting the health of your lawn.
Common signs of many different lawn fungus diseases
Spots/patches
Bleached turf
Stunted growth
Shredded or shriveled grass blades
Lesions on leaf
Dark growth at the base of the plant
If in fact a lawn fungus is causing the damage, then correctly identifying the particular pathogen is the next step. The fungi that damage our lawns are parasitic and basically steal nutrients from grass plants, which causes the grass to decline, turn off-color or in some cases die. When a fungal spore encounters a host in the right environmental conditions, a disease is likely to develop.
common lawn fungus diseases
Pink Snow Mold – White to pink fungal growth that feels slimy, favored by abundant moisture.
Gray Snow Mold – White to gray fungal growth that may form large irregular patches, favored by abundant moisture or snow cover.
Yellow Patch – Circular patches of light tan to brown grass, favored by cool, wet conditions.
Leptosphaeria Patch – Circular yellow patches or tan to brown grass, favored by cool, wet weather.
Stripe Smut – Stunted grass with a lighter yellow to green color, favored by high moisture conditions.
Leaf Spot/Melting Out – Tiny, circular, dark spots or larger purplish spots, favored by cool air temperatures, moist conditions and improper mowing.
Red Thread/Pink Patch – Small, light pink to red patches, favored by cooler weather and moist conditions.
Dollar Spot – Circular patches with reddish-brown borders, favored by humidity.
Brown Patch – Circular, light brown patches, favored by moist conditions or areas that remain wet.
Fairy Ring – Circular patches of dark green, often enlarged into rings, favored by mild temperatures and moisture, and sometimes in dry, hot conditions.
Rust – Small, yellow flecks on leaves, sometimes enlarged to form rust-colored pustules, favored by moderately warm and humid conditions or stressed turf.
Now, before you head to the computer and Google "how to treat lawn fungus," keep reading …
Damage in a lawn isn't always lawn fungus, so it's unwise to turn to a lawn fungus treatment without more knowledge of the issue. Once the issue is determined, you can then identify the safest and most cost-effective lawn disease treatment or lawn care plan designed to restore the lawn to lush, green health. 
Your local TruGreen® experts are trained to determine what is ailing your lawn and if lawn fungus treatment is really what you need. They can provide valuable advice on how to treat lawn fungus as well as tips for proper mowing and watering. In addition, the ongoing technical support they offer can greatly reduce the likelihood of lawn damaging diseases reappearing in your lawn and will fortify your lawn fungus control. Visit TruGreen.com or call 866.688.6722 today for more information.