The best way to get green grass includes the right balance of services and at-home methods to achieve that healthy, green lawn you'll love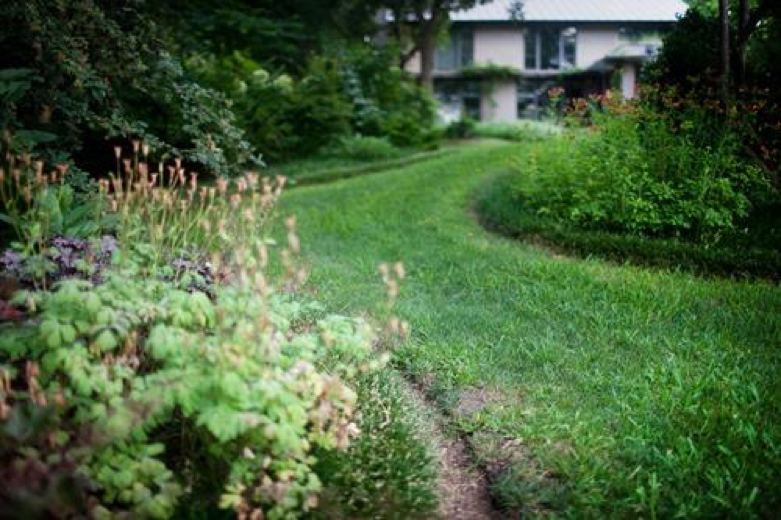 If you're a homeowner with dreams of having the greenest grass on the block, you've come to the right place! Weed control, irrigation, fertilizer, and a little specialized knowledge can help make the difference. We've got some tips and tricks to help keep your grass greener and brighter year-round.
How to get green grass
If you want a healthy, green lawn at its finest, you'll need to pay attention to:
Weeds. Both annual and perennial weeds can be turf troublemakers! Perennials can survive underground through the winter and resprout to pose a threat to your grass once spring arrives. Annuals can germinate at different times of year when pre-emergents aren't traditionally used, making it difficult to destroy them without harming your desired lawn grasses at the same time. Good news is TruGreen can help. Call TruGreen to apply pre-emergent or targeted weed control.
Water. Any yard that experiences dry weather for extended periods—especially in the summer—needs irrigation to support a healthy lawn. Ideally, irrigation should wet the soil to a depth of 4-6 inches, the level at which most turf roots grow. Most grasses will need 1-2 inches of water each week, with greater requirements in hot, dry, or windy weather.
Nutrients. Fertilizing with the proper balance of nutrients is essential to the maintenance of a vibrant, green lawn. The three main ingredients in most fertilizers—nitrogen, phosphorus, and potassium—are mixed in different proportions based on the fertilizer. Each TruGreen full service lawn plan includes fertilization that uses a slow-release formula that is applied at key points in every season to stimulate and maintain growth.
Mowing. Bottom line: don't mow too low. It's recommended to let your lawn grow a healthy amount before shaving it down. Cutting the grass too short will limit deep root growth, an essential part of keeping your emerald-green lawn. Additionally, taller grass holds more moisture, which we recommend below for keeping healthy grass in the summertime. Another tip from the pros is to leave the leaf clippings behind. The thin, top half of the grass can actually give your lawn one-third of the nitrogen it needs.
Seasonal tips: How to get a healthy lawn in any season
eaves fall and the seasons change, but that doesn't mean your grass has to suffer. Your grass needs specialized care depending on the time of year! A little extra knowledge goes a long way:
Spring: Scheduling a pre-emergent application in the spring can help to deter weeds. Our targeted weed control offers the most effective treatment possible. Call TruGreen early in the season to help keep your grass healthy all year long!
Summer: As temperatures rise, keeping your turf well-watered is the best way to achieve green grass that withstands the heat. If you can, water early in the day, before the sun is high. This avoids stressing your grass and will allow the blades time to dry before the nighttime, which discourages the growth of diseases that flourish in damp conditions. If watering early in the day isn't an option, nighttime is safe, as long as your lawn is healthy.
Fall: Call TruGreen to aerate and fertilize your lawn to give things a leg up for spring. If you're wondering whether to seed or sod for fall, check out the do's and don'ts here. Fall is a great time to start composting. Here's how to create your own compost bin.
Winter rest: Cold season preparation leads to a lush lawn in the upcoming year. Winter is a good time to mulch around landscape plants and flower beds. Wait until all leaves from surrounding trees and shrubs have fallen, and bury the leaves under the mulch. Wondering what plants are most prone to injury during the winter months? Find out here. Keep those cool-season grasses like Kentucky bluegrass fertilized by scheduling an appointment with your Trugreen technician. This will give them nutrients to produce new roots and leaves and recover from summer stress.
Want to know more about the best way to get green grass? Talk to the experts! A TruGreen PhD-certified specialist can help you achieve that bright lawn you're hoping for. Once you sign up for a TruGreen lawn care plan, your specialist will conduct a Healthy Lawn Analysis® that identifies exactly what your lawn needs to reach its fullest potential. That information is used to further tailor a plan that will help you achieve a lawn you'll love all year-round.
To learn more about how to get green grass, visit TruGreen.com, or call 866.688.6722 today.