How do you boost the curb appeal of your outdoor living space? As we all know, keeping your space in tip top shape is no easy job, especially without the correct tools to do so. When it comes to mowing, tending to weeds and general maintenance - having the best tools and lawn equipment for the job can help redefine your lawn care. So, what are the best tools for the job? Let's dive into the top 8 tools every homeowner should have to maintain their outdoor space!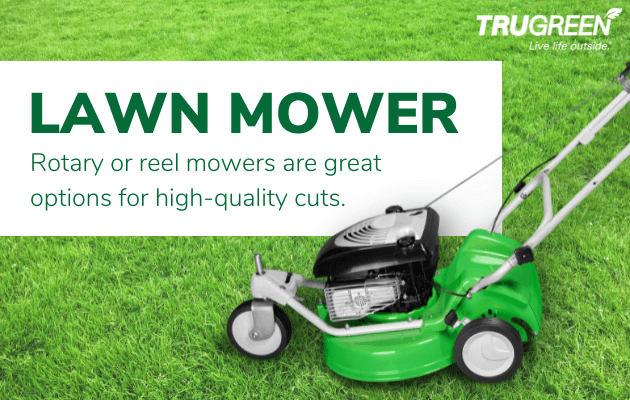 1. Lawn Mower
Let's start with the basics in lawn equipment! All homeowners wanting to keep their lawn well-groomed need a lawn mower. Oftentimes, homeowners will opt for either a push mower or a riding mower. Both types of mowers offer high-quality cuts, but differ in their cutting mechanisms, maneuverability, and maintenance. The size of your lawn will help you decide which mower may be a good fit for you.
In addition to choosing the right type of lawn mower for your needs, it is also important to properly maintain your mower. This includes checking and changing the oil, air filter, and spark plug regularly, as well as ensuring the mower blades are sharpened. Dull blades can tear the grass instead of cutting it cleanly, which can lead to a brown, unhealthy lawn. Sharpening the blades regularly will help to maintain a healthy and vibrant lawn.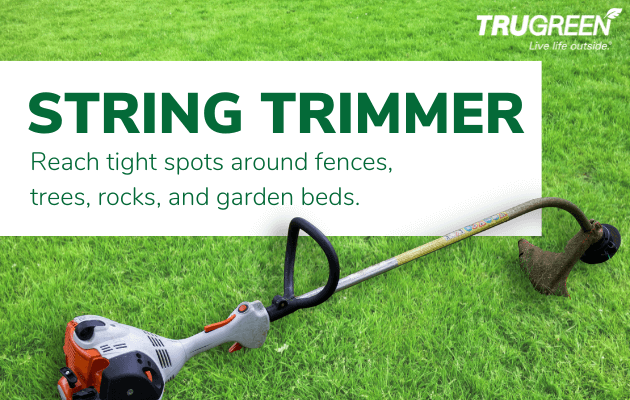 2. String Trimmer
A string trimmer, also known as a weed-wacker, helps get in the tight spots your mower can't reach. This tool is perfect for trimming around fences, trees, rocks, and garden beds. Depending on the type of string trimmer, you can buy attachments to handle thick weeds, brush, and other unruly plants.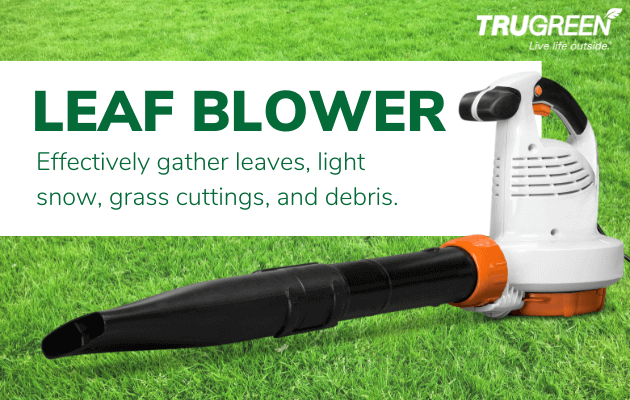 3. Leaf Blower
Investing in a leaf blower will make cleaning up your lawn an ease! While rakes can help with small maintenance jobs, a leaf blower is an extremely handy piece of lawn equipment for cleaning up larger jobs such as the leaves from fall and debris in the spring and summer.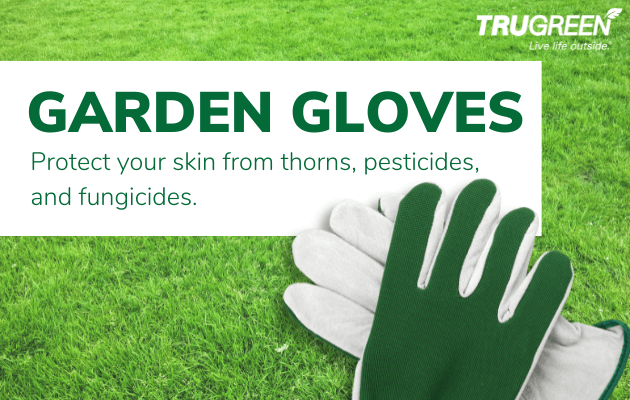 4. Garden Gloves
With lawn maintenance, it is important to protect your hands! Purchase a pair of garden gloves to ensure your safety while gardening, landscaping or performing lawn care. For the most protection, opt for leather, nylon, spandex, or polyurethane-coated gloves to add a thick layer between tools and debris and your skin.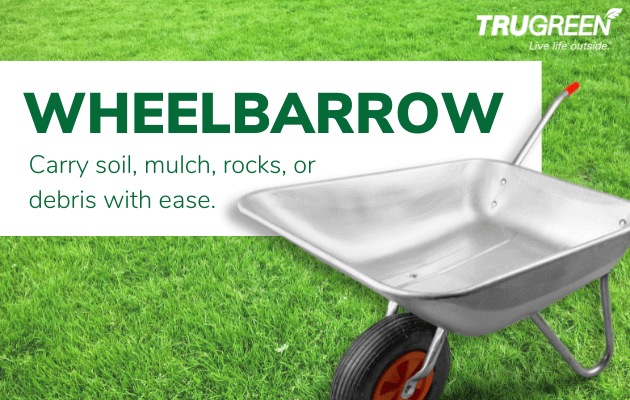 5. Wheelbarrow
Forget the heavy lifting! Invest in a wheelbarrow for easy transportation of heavier objects and materials. The most common use of a wheelbarrow is to carry soil, mulch, rocks, or debris. Consider the requirements and needs of your lawn maintenance when buying a wheelbarrow. While plastic wheelbarrows are lightweight and suitable for small jobs, steel wheelbarrows offer more stability for heavy-duty lawn and landscaping projects.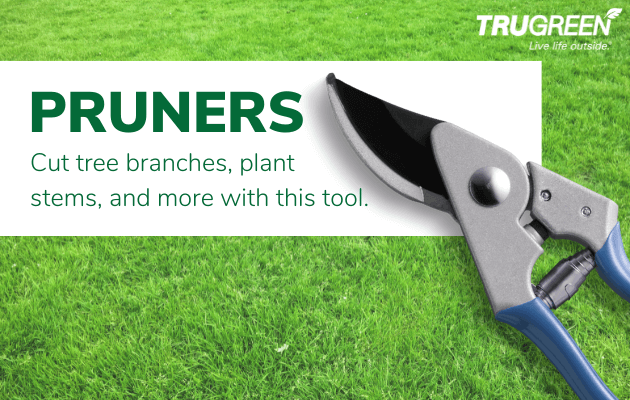 6. Pruners
Is part of your outdoor maintenance dedicated to your garden or shrubbery? If so, a pair of pruners are a handy gardening tool that will become your next best friend. Pruners are gardening scissors used for cutting tree branches, plant stems, and even floral touch-ups. Pruners are extremely universal and can aid a wide variety of lawn tasks.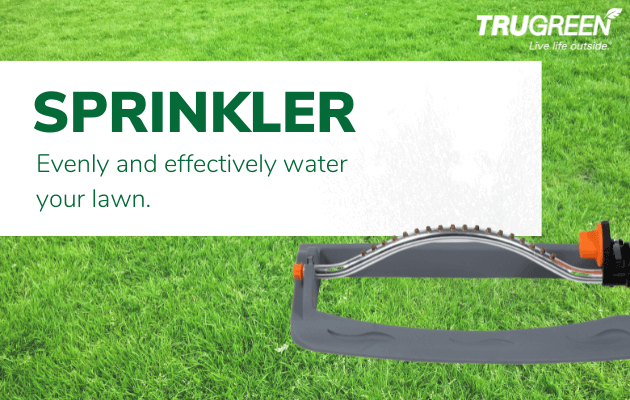 7. Sprinkler
A sprinkler system is an essential tool for any homeowner looking to maintain a beautiful and healthy lawn. Not only does it save time and effort compared to manual watering, but it also ensures that your lawn is watered evenly and effectively. The most common types are stationary sprinklers, oscillating sprinklers, impact sprinklers, and in-ground sprinkler systems.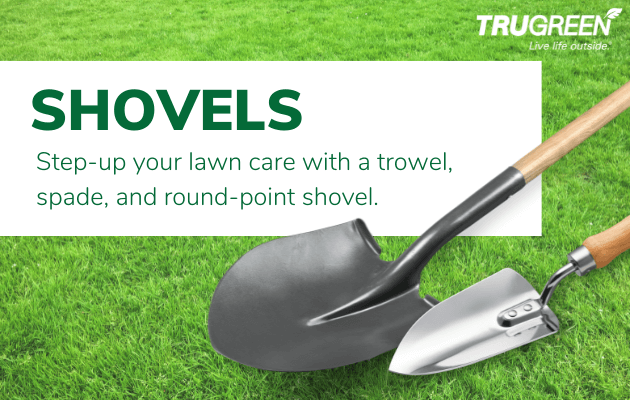 8. Shovels
Before you attempt any kind of outdoor maintenance, you're going to need a quality shovel. In order to transport soil, dig up weeds, or even plant new trees or shrubs, a shovel is an essential tool for the job. But remember, not all shovels are created equal. Depending on the task at hand, specific types of shovels will be better suited for the job. The following three shovels should help get you started on everyday lawn tasks:
Trowel: These miniature shovels are perfect for small gardening tasks and weeding.
Spade Shovel: A spade shovel has a straight edge, and is a tool best used for edging your lawn and creating defined holes or trenches.
Round-Point Shovel: When it comes to digging through hard soil, the round-point shovel is the way to go!
Step Up Your Lawn Care Game With TruGreen
Are you prepared for your next lawn care job? Having the necessary tools can make the world of a difference when tackling maintenance for your outdoor space. While our recommended tools can help homeowners maintain their lawn's looks, professional services are recommended to perform advanced lawn treatments like aeration, overseeding, and fertilization.
Thankfully, our TruGreen-certified specialists know exactly how to help you get the green turf of your dreams. Let a TruGreen specialist help you create a tailored lawn care plan that will help you achieve the lawn you love by calling 866.688.6722 or visiting our services page!