Are you prepared to fertilize your lawn? Take our quiz to find out if you're ready to tackle the DIY route or call in the experts.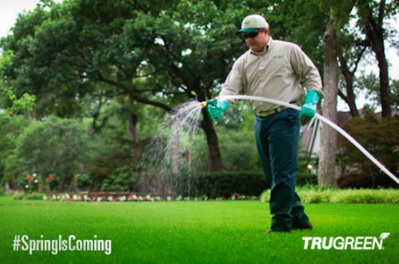 Is Your Grass Well Fed?
If a lack of moisture, high temperatures, pests and foot traffic have left your lawn damaged or if your lawn just isn't the hue and thickness you want, it's time to think about fertilizing.
Feeding (or fertilizing) your lawn helps it grow lush and green and has been known to cause neighbors to turn green with envy. Regular fertilizing creates a better root system which helps your grass fight the heat, cold, drought, mowing and foot traffic that can cause damage.
Are You Prepared to Fertilize Your Lawn?
Fertilizing your yard can be a DIY weekend project or if you'd rather kick back and have an expert take care of it, we can help.
Do you know if your lawn is filled with cool- or warm- season grass?
Have you determined the perfect balance of fertilizer for your yard?
Do you know the type and pH balance of your soil?
Have you determined if quick- or slow-release fertilizer is right for your lawn?
Are you aware of the square footage of your lawn?
Have you figured out the right fertilizing schedule?
If you answered yes to most of these questions:
Sounds like you've done your research! If you want a little more information about fertilizing your lawn DIY style, we have some great resources.
If you answered no to most of these questions:
Sounds like it's time to call an expert. Luckily for you, we know a few. Give us a call at 866.688.6722 or visit us online to learn more about how we can make the fertilization process easy for you.