Got a gardener or plant lover in your life? This easy four-step DIY craft is a perfect gift idea for the holiday.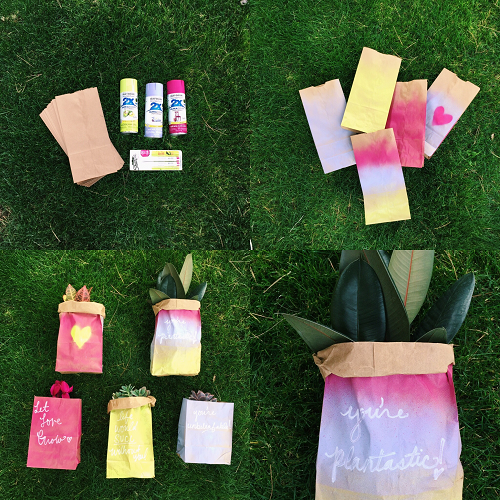 Candy and cards certainly aren't a bad choice this Valentine's Day, but if you're gifting for a gardener, consider giving them what they really want: cute plants.
Materials
Plants
Brown paper bags
Spray paint
White paint pen
Directions
Find a well-ventilated area and place newspaper or plastic down to cover the area you'll be spray painting. (Otherwise, you'll end up with a multi-colored carport like me!)
Spray paint the bags in whatever way your heart desires. We did some solid colors, while also experimenting with a gradient look. You can also use some of the extra bags to make stencils, which is how we created a heart on one of the designs.
Let the bags stand up and wait for the paint to dry. Once dry, flatten them and find a hard surface on which to write your punny messages of love. Make sure to follow the directions on the paint pen before you begin writing your message.
Once the message is dry, roll down or trim the tops of the bags to fit the height of your plant. Place the plant inside and ta-dah! Your gift is complete.
Some punny words of love
The options can go on forever, but here are some cute messages we liked:
ALOE you VERA much
You're plantastic
Life would succ without you
Let's grow old together
Let love grow
You're unbeLEAFable
Our love runs deep like these roots
If you make this, we want to see it! Tag us on Instagram or Facebook using #TruGreenValentine to share your final product.