Get your summer's worth! Check off these bucket list items before it's time to get back to the books.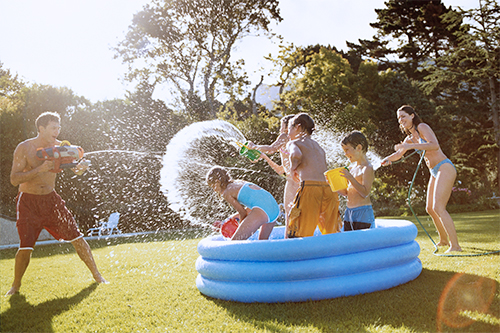 Summer is drawing to a close, and we're all feeling a little sad about it.
Don't get us wrong, we love the changing of the leaves and crisp air... It's just that, we're all a bit whimsical about the cool blue skies and lush green grass of summer. We're in no hurry to say goodbye.
So before we do, here's a bucket list of all of our favorite summer activities. Check them all off before it's too late to spend those lazy days under the warm sun.
20 Ways to Soak Up the Last of Summer
Have a backyard summer sleepover. Grab the tent, an air mattress (sleeping outside doesn't have to mean giving up comfort), the kids, and their favorite games. Add in snacks and you have a recipe for a perfect Saturday evening.
Throw an end of the summer backyard party. Life gets a little more chaotic once school starts, so celebrate before summer ends! Check out tips for throwing a great backyard party here Pinterest page.
Skip rocks at the lake. It's a rite of passage to try and out-skip your older siblings. Teach the whole family how to skip rocks and plan on an afternoon of friendly competition at the lake.
Step up your hotdog game. Prefer your 'dogs with just some ketchup and mustard? Check out this infographic Pinterest page of how regions around the country like their hotdoggies.
Throw it back to the old days and put baseball cards in your bike spokes. Make this #ThrowbackThursday last the rest of summer. And if your kids laugh at you, it's OK, we still think you're cool.
Create a she shed. Much prettier than a man cave, she sheds will let you enjoy the last days of summer in peace, while transitioning nicely into fall. See tips for creating your own here Pinterest page!
Indulge in an ice cream sundae. Or two. An ice cream sundae is always delicious, but it's just not the same in the winter.
Enjoy ice cream DIY style. Sure a trip to the local shop or run to the ice cream truck is great, but there's something about making your own that just feels satisfying. Taste of Home has easy directions here Taste of Home.
Tie-dye some clothes. Grab some old newspapers, rubber bands, t-shirts, dye, and take the kids to the backyard. You'll want to do this project outside to prevent unintentional tie-dying around your home.  
Take a dip in the pool with the whole family after work. Dinner can wait a few minutes. Grab the kids and show off your best flips and cannonballs!
Get your name on an arcade game leaderboard. Let me guess, Ms. Pac-Man ain't afraid of no ghosts when you're in charge of the joystick, right? Take the kids down to the nearest arcade and have a day of fun racking up the leaderboards.
Take a weekend camping road trip. If the backyard didn't seem outdoorsy enough for the family, plan a weekend camping trip away from home. Plan out the route and stop by landmarks along the way!
Relax in a hammock. Grab your favorite book, a cool drink, and turn the phone to silent. Need help putting up a hammock? We've got easy directions here Pinterest page!
Play flashlight tag. Sometimes it's too hot to play during the day. Save your energy and get the neighborhood kids together for a night of flashlight tag!
Join in a beach volleyball game. Bump, set, spike it! That's the way we like it. Grab together some friends and hit the beach for some sand volleyball.
Make jean shorts out of a pair of jeans. Has summer adventures been cruel to your jeans or has a growth spurt hit the kids? Grab those jeans and with a few snips and stitches, turn them into your new favorite pair of shorts.
Buy the biggest water guns you can find and go to town in the backyard. We can't think of a more fun way to cool off than with a giant water gun battle.  
See an outdoor movie. Swing by your local drive-in for the summer's hottest film. No place nearby? Check out these tips rom-com under the stars for creating your own backyard movie theater!
Find a fishing hole with a rope swing. Get your Tarzan on and swing from the trees!
Go fishing. After everyone's done swinging from the rope swing, settle down and spend a couple hours fishing.
Ready for more ideas? Check out our Pinterest page for a summer to do list that will help you #LiveLifeOutside the rest of the season!