You probably already know that the grass in your lawn requires enough air and the right amounts of water and nutrients to remain healthy and lush. What you may not know, however, is that sometimes the conditions of our lawns, specifically really thick thatch, make it difficult for turfgrass to access these essential, life-sustaining requirements. TruGreen® recommends lawn aeration to achieve more optimal conditions for turfgrass health.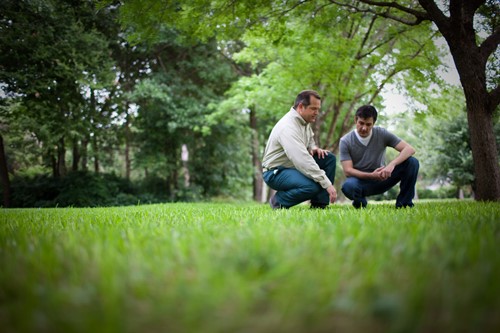 Let's review a lawn care aeration service, and then briefly examine how it can benefit your lawn.
Lawn aeration, also known as core aeration, involves the use of hollow tines or tubes to remove cores of soil, and deposits them on the surface of the lawn. Ideally, the soil cores should be ½ to ¾ inches in diameter and 2-3 inches in length. Cores should be pulled at least every 6 inches apart on the average.
A lawn care aeration service and the process of pulling the cores provides the following benefits:
Better air exchange. Aeration "opens" and gives your lawn's roots more room to "breathe." This helps strengthen your lawn by increasing the size and quantity of your lawn's roots.
Improved fertilizer absorption. Because aeration opens the soil, more food reaches your turf's roots. More food helps grass grow more roots.
More efficient water usage. Aeration lets water flow directly to grass roots and means that you use water more efficiently.
Improved resistance. A healthy root system increases your turf's ability to survive if diseases or pests attack your lawn.
Enhanced thatch breakdown. Millions of beneficial microbes live in your soil and eat thatch removed by the aerating process. By eating thatch, microbes release nutrients into your soil, which your turf absorbs.
Along with those benefits, applying lime or sulphur after core aeration promotes the change of pH deeper into the soil profile. This will let nutrients penetrate deeper in the root zone to become available to the turf.
Lawn aeration is included in the TruGreen TruCompleteSM Lawn Plan, which, like every TruGreen lawn care plan, begins with a Healthy Lawn Analysis® performed by a TruGreen PhD-certified specialist. This analysis helps TruGreen create a tailored approach to your lawn will that give it exactly what it needs to reach its full potential.
To learn more about lawn care or to get started on a lawn care schedule with TruGreen call 866.688.6722 or visit TruGreen.com.