From aeration to mosquito control, click to see if your state made the list of top places that care about lawn care-related topics!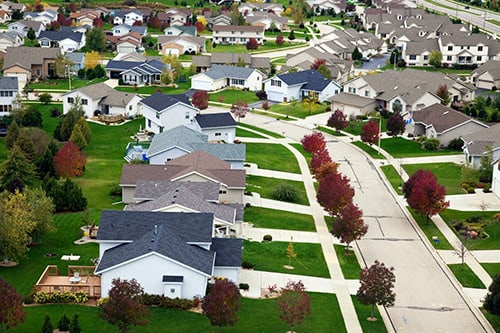 As you drive through neighborhoods from state to state, do you ever notice the differences in how great the lawns are?
If you reside in Iowa or Nebraska, this is probably a common occurrence, as they are the top two states in the country that care about and research lawn care, according to five years of data from Google Trends. We took a look at the top five states that search for lawn care-related terms -- read below to see if your state made any lists!
Lawn Care
If you've ever lived in or visited the Midwest, then it should come as no surprise that states from this region care a lot about lawn care. The nutrient-rich soil paired with Midwest pride commonly results in tip-top lawns throughout neighborhoods. Lawns are typically seeded with fine fescue, Kentucky bluegrass or perennial ryegrass, and common weeds include crabgrass, clover, dandelion, ground ivy, and violets. For more info on Midwest lawn care, check out our in-depth guide.
Google Trends data shows that the Top 5 States Where People Care Most About Lawn Care are:
Iowa

Nebraska

Missouri

Michigan

Indiana
Want help with your lawn care this year? Find a local branch near you.
Mosquito Control
Floridians are the first in the country for seeking answers for mosquito control. While mosquitoes are a constant pest in the hot and humid state, natural disasters like Hurricane Irma can greatly intensify the problem. Such was the case with Texas. Though the state didn't rank on the top five places over the last five years, Dallas and Houston's search for mosquito control spiked in September 2017 compared to September 2016, following the storms of Hurricane Harvey.   
Google Trends data shows that the Top 5 States Where People Care Most About Mosquito Control are: 
Florida

Louisiana

Delaware

South Carolina

Massachusetts
Looking for mosquito control? Check out TruGreen's Mosquito Defense.
Aeration
While Colorado boasts gorgeous views of the mountains, the front range also has predominantly clay soils in many parts of the state. Aeration is a necessary component of lawn care everywhere in the country — especially in areas with clay and sandy soils —  to help bring oxygen and nutrients to the root zone of compacted soils.
Google Trends data shows that the Top 5 States Where People Care Most About Aeration are: 
Colorado

Ohio

Utah

Nebraska

Iowa
Find your local branch here to get your spring aeration scheduled!
Spinkler Repair
Sprinkler systems are key to maintaining a healthy, lush lawn, but to keep your grass in tip-top shape, you have to keep up with your sprinkler system maintenance and repair. Seasonal changes — adjusting watering levels in the summer and winterizing in the fall — are necessary to keep your system and lawn happy.
Google Trends data shows that the Top 5 States Where People Care Most About Sprinkler Repair are:
Utah

Colorado

Idaho

Texas

Florida
To get the benefits of TruGreen's Annual Sprinkler Maintenance Plan year-round, sign up today!
Tree & Shrub Maintenance
New homeowners may be surprised to learn that care for tree and shrub maintenance requires more than just watering and pruning. And Mother Nature's conditions, like droughts and late cold snaps, can add another element of care needed to maintain a healthy yard.
Google Trends data shows that the Top 5 States Where People Care Most About Caring for their Trees & Shrubs are:
Colorado

Minnesota

Kansas

South Carolina

Delaware
To help create and maintain a flourishing landscape, contact your local TruGreen professional. They can conduct a Tree & Shrub Evaluation to help determine the specific needs of your yard.
Your Partner in Lawn Care
Whether you need a boost of fertilizer to green up your grass, aeration to break up thatch, or treatment to combat mosquitoes, our specialists are here to help.  We're committed to improving outdoor spaces in our communities and our environment and to making your yard a place of inspiration and true connection, filled with family BBQs, friendly picnics, games of tag, and naps in the grass.
Click the orange button at the top of the page to get a custom quote for your lawn care needs!