We help the lawns of homeowners across the country and also assist in the care of some pretty awesome baseball stadiums.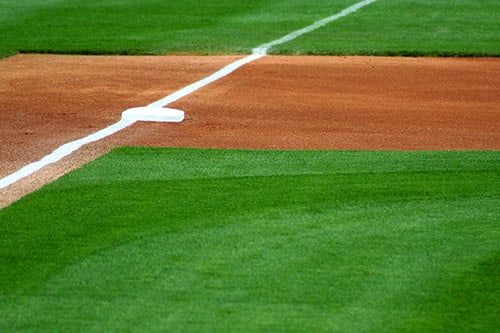 Major league lawn care
It may take 4,655,926,995 baseballs to fill Miller Park, but it only takes one lawn care company to get the field in tip-top condition.
If you think that caring for your lawn at home is tough, then think about the care that goes into a lawn that nearly every day has athletes wearing cleats running over it at incredibly fast speeds before diving on the grass to catch a baseball.
The field at Miller Park is Kentucky Bluegrass, which is the most popular turfgrass in the major leagues. While we all appreciate the beauty of the field, have you ever wondered what kind of care is needed to keep it looking beautiful for the big game?
For the past 22 years, TruGreen's Milwaukee General Manager, Mark Thurner, and his team have cared for the Brewers' ​Major League Field. We spoke with Thurner to get a closer look at what it's like to care for such a special stadium.
What does it mean to you and your team to be able to partner with the Brewers?
"It's certainly a source of pride for us at TruGreen. We serviced the old stadium for six years until they moved to the new Miller Park in 2001. We support the team by going to the games and we're proud to show our families the product of our hard work."
Caring for the field can mean visiting the stadium 15 to 20 times each year; what's included in those visits?
"There is not a standard program of care for the park...it's a very detailed plan. We provide a combination of micronutrient products, disease control and fertilizers, customizing our care based on the conditions there at any given time during the year."
Miller Park is known for its unique 12,000-ton, 7-panel roof, and the 200-foot walls built to support it. How does this feature impact turf care?
"These walls hinder the air circulation and light in the park, which can hamper the growth of the turf. There are parts of the field that don't get any sun at all. The ground crew does a great job getting growth in those areas, and [they] use special lights imported from Europe to bring artificial light to these areas. We supplement their hard work with our custom program."
In addition to the main field, TruGreen also cares for the park's outside grounds plus Helfaer Field, a Little League stadium that sits in its parking lot, in the exact spot where the old stadium stood.
To learn how TruGreen can help turn your backyard into your very own field of dreams, contact us today at 1-800-464-0171 or fill out the green box on the left to get a personal quote today! And if you want to learn how to get beautiful lawn stripes in your yard just like the pros, check out our step-by-step video!