Winterizing your sprinkler system is necessary in order to prevent expensive repairs next season. Learn how TruGreen® can make the sprinkler maintenance process easier.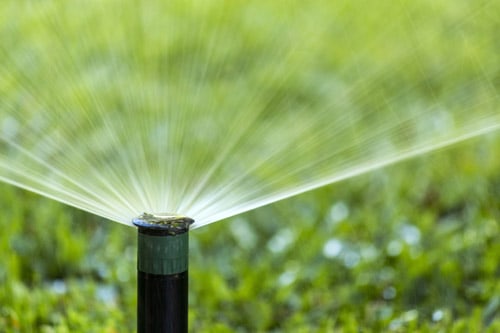 For many homeowners, an automatic lawn irrigation system is the easiest way to ensure grass is getting the correct amount of water it needs. As proper watering is one of the most crucial factors in keeping a lush, healthy lawn, you'll want to make sure your sprinkler system is prepared for the important task. 
Preventing winter damage to your irrigation system
Just like your lawn's needs change season to season, your sprinkler repair and maintenance needs will change as fall turns to winter. Winterizing your sprinkler system should occur before your first local freeze and is vital to prevent cracked pipes, clogged sprinkler heads, and damaged sprinkler heads.
Cracked valves and pipes
One of the most common causes of winter damage to irrigation systems results from water being left inside freezing pipes. As frigid temperatures move in, the remaining water will freeze, expand, and cause pipes, valves, and seals to crack and leak. As part of TruGreen's Annual Sprinkler Maintenance Plan, trained specialists will perform year-round irrigation checkups to ensure top performance. 
Clogged sprinkler head
Dirt and lawn clippings can sometimes clog your sprinkler heads, causing malfunctions such as unpredictable spray patterns and heads rising but not spraying, or not lowering after watering. Checking and cleaning sprinkler heads prior to winter hibernation can help ensure a fully functioning system in spring. 
Broken sprinkler head
If sprinkler heads are set too high, they can often be damaged by vehicles or lawn mowers. As part of the Annual Sprinkler Maintenance Plan, TruGreen will provide up to 3 free replacement sprinkler heads per quarterly visit.
Why Sign Up for TruGreen's Annual Sprinler System
In the Annual Sprinkler Maintenance Plan, you can expect to find the following benefits:
  Quarterly irrigation checkups to ensure top performance year-round
  Inspection and fine-tuning at each checkup for optimization coverage
  Broken head and irrigation leak repair
  Sprinkler head, timer box and zone adjustment
  Rain sensor testing and repair
  System renovations and updates
Your local TruGreen specialist will help ensure your system is ready for winter and the freezing temperatures that come with it. Without the correct preparation this fall, you could find yourself with expensive sprinkler repair costs next season.